The Emanuel Manual: Brothers, Rivalry, and Success
How sibling rivalry was the key to the three brothers' outsize success
Jessica Grose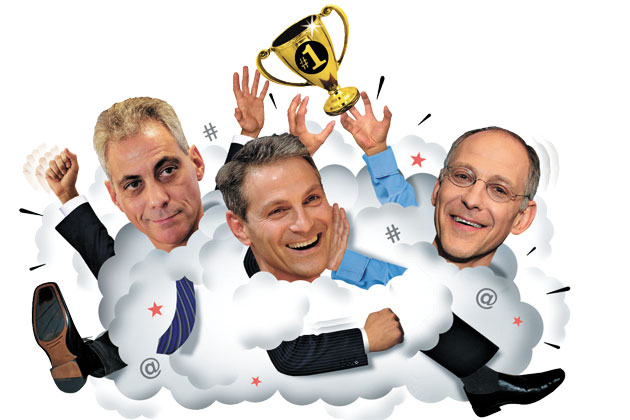 In the postscript to former Obama health-care adviser Ezekiel Emanuel's recent memoir, Brothers Emanuel, he mentions the "cereal question." As in, what did his mother put in the cereal to create three such wildly successful sons? With Chicago Mayor Rahm and Hollywood super-agent Ari rounding out the famously ambitious trio, New York Times columnist Maureen Dowd and hundreds of others have asked the brothers to reveal what went on in the Emanuel household that produced men who believed, as Zeke writes, that if you couldn't keep up with them, "there was something wrong with you."
A good chunk of the Emanuel memoir is devoted to the bond among the siblings: Serious Zeke, creative Rahm, and impish Ari. Their father, Ben, a pediatrician, and their mother, Marsha, a medical technician, ran a rowdy yet loving household. "We were not pacifists," Zeke deadpans. At the family dinner table, where their grandfather (whom they affectionately called "Big Bangah" because he banged the table so force-fully) held court, the boys would call each other schmucks and other Yiddish epithets during heated arguments. They learned "to respect authority and to constantly question and challenge it," as Rahm said in an interview on NBC's Rock Center.
That Ben and Marsha had three children rather than two, and all were boys, was crucial to their specific competitive dynamic. Boys tend to play in groups, while girls arrange themselves in twos, and "self-assertiveness is a natural communication style of groups. People need to be loud enough to be heard," explain Po Bronson and Ashley Merryman in their book, Top Dog: The Science of Winning and Losing. Rahm is famously combative and obscene—"The Republicans can go f- - - themselves!" he memorably told the Wall Street Journal. Ari, the co-CEO of William Morris Endeavor, is the inspiration for the aggressive, arrogant Ari Gold on the TV show Entourage. "I just sit and scream all day," Ari told the New York Times in 1997. (He's since mellowed, citing therapy: "I've done a lot of work on myself.")
Growing up, the brothers had a surfeit of physical energy. Particularly Ari: According to Zeke, the kid barely slept. Their father would let the boys attack him when he got home from work, to the point where "the wildness did occasionally result in a gouged eye, a bloody scratch, or a twisted ear." As a toddler, Ari once greeted one of their mother's pals with the question, "Onna fight?"
Observational studies show that siblings argue, on average, 10 minutes of each hour, and Merryman says that parent-directed rough play is actually quite beneficial to teaching children how to regulate emotions during competition. Top Dog summarizes the work of University of Montreal anthropologist Daniel Paquette, who found that the emotional groundwork of roughhousing, "helps children later in life be brave in unfamiliar situations, stand up for themselves, and learn to take risks. It gives them time to get comfortable with the emotional intensity of competition."
Zeke acknowledges that his parents made some mistakes along the way, including replaying the dysfunctional dynamics of the Emanuel grandparents. Jeanne Safer, psychotherapist and author of Cain's Legacy: Liberating Siblings From a Lifetime of Rage, Shame, Secrecy, and Regret, says this is one of the ways unhealthy aggression can be fomented. "That's a recipe for sibling strife," she says. Zeke also admits there were moments of bullying in the Emanuel clan, and, "As much as my mother hated the way her own father pushed her around, she could also play the bully with her emotional outbursts and extended silences."
Ultimately, the Emanuel parents hit the sweet spot between encouraging rivalry and letting it fester into divisiveness. Their sons are at the top of their respective professional fields, while also enjoying remarkably close brotherly bonds. "In the heat of the battle we always knew we had each other," Zeke writes. He reports that the three siblings talk four or five times a week. Sometimes it's just to say, "I love you, a- -hole."
Before it's here, it's on the Bloomberg Terminal.
LEARN MORE