pursuits
Q&A: A CEO Paying His Employees to Get Tattoos
By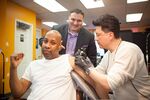 Getting a tattoo of a significant other is one thing. But how about going all-in for a tattoo of your employer's logo?
New York apartment rental brokerage Rapid Realty has started offering its agents a 15 percent commission bonus on all deals to get a tattoo of the company's mirror image of the letter R. The agency's chief executive, Anthony Lolli, a tattoo-less man himself, says the point was to boost employee solidarity and to encourage people to think twice before quitting.
Lolli started the policy in 2011 after an agent voluntarily chose the Rapid Realty logo for his tattoo and Lolli wanted to repay him for his "brand ambassadorship." So far, 40 employees have taken advantage of the offer, and about a dozen more are looking into it, he says. The company covers the cost of the tattoo, which can be anywhere on the body, and the design can be personalized. We spoke with Lolli about his tats-for-cash program.
Please describe your employees getting these tattoos.
Most of them are under age 38, but we had someone who was 59 get one. One was 43, and this was his first tattoo.
Do they get extra for getting two tattoos?
No. You max out at one.
How much has this policy cost the company so far?
With the cost of the tattoos, which are about $150 to $350, and the commissions, probably more than $150,000.
Has it been worth it?
It's worth it for the loyalty. There's a lot of turnover in real estate. It's really for building brand ambassadorship and the culture of "stick-to-it-iveness." That's so important. You have to stick it out, in any business. You're gonna get good if you give it time. It can take some longer than others to understand the art of real estate.
And are all 40 tattooed employees still there?
All of them.
So why don't you have any tattoos?
I'm not into tattoos. I don't have any on my body. However, I told all of my people that on my 100th store's grand opening, I would get one done.
You must be getting a lot of pressure to get one.
Not too much.
Do you offer advice on how it should look, like an artistic consultant?
I give them some ideas, and they tell me their ideas. They're, like, I want to put a flame around it, I want to do this around it. I am super flexible.
Before it's here, it's on the Bloomberg Terminal.
LEARN MORE