One Bright Spot for VCs? Impact Investing
by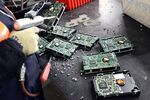 A lot of venture capitalists are having trouble raising new funds. Returns have lagged stocks. In the first quarter, 35 funds raised money, the lowest number (PDF) in a decade. As many as 400 firms may have shuttered or stopped investing.
In this landscape, SJF Ventures raised $90 million for its third venture fund, which will invest in growth companies with a social impact, the firm announced today. The fund attracted investors from mainstream banks such as Citicorp and Deutsche Bank, insurance companies, foundations, and wealthy families and individuals. Founder David Kirkpatrick says the new fund was raised over 15 months and exceeded SJF's target of $75 million.
SJF is a 14-year-old firm that invests in businesses focused on social impact or sustainability. Based in Durham, N.C., with offices in New York and San Francisco, its portfolio of 36 companies includes businesses such as eRecyclingCorps, which recycles used cell phones, and Aseptia, a food processing company that eschews preservatives. Kirkpatrick says SJF's previous fund performed in the top quarter of VC funds.
Partly because SJF can point to that record, the new fund includes a mix of backers interested in socially responsibly investing and those primarily motivated by financial return. "We definitely have investors in this fund that just wanted a growth equity fund and wanted good results," Kirkpatrick says. "We've had that crossover occur. It's not just the folks who have been in [socially conscious investing] for many years."
Investors' interest in high-growth businesses with a social impact is growing. Investors Circle, a national group of socially conscious angel investors, recently ranked in the top 10 (PDF) most active angel groups in the U.S.
For many years, philanthropically minded investors debated whether they would have to sacrifice financial returns to do good. SJF's original fund, raised in 1999, promised a "reasonable return" but didn't expect to match the results of VCs seeking solely to maximize financial returns, Kirkpatrick says. The firm's second fund was an experiment in trying to deliver market-rate returns while still investing in businesses with social benefits. At a time when investors are questioning the value of venture capital as an asset class, SJF's investors, at least, seem convinced its strategy can work.
Before it's here, it's on the Bloomberg Terminal.
LEARN MORE