More Companies Need a Hooters Makeover
Larry Popelka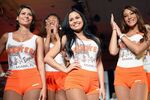 Hooters announced last week that it is reinventing itself. The iconic restaurant chain that made its name by featuring waitresses in tank tops and hot pants is rethinking its business model.
Hooters built a strong business in the 1980s and '90s, growing to almost $1 billion in revenue. But in recent years, sales have slipped as the restaurant's business concept has fallen out of step with current societal trends, making it an unacceptable dining option for many.
While Hooters still has a strong following, its new owners (H.I.G. Capital and others) needed to make a tough call. Rather than continue to invest in a declining concept, they chose to reinvent it. The new Hooters promises to maintain critical assets (i.e., the Hooters girls) while rethinking other elements of the business proposition (more-modern uniforms, better food, a décor that looks less like a strip club, etc.).
While it's too early to tell how the Hooters makeover will do, its business team deserves credit for objectively evaluating their product and proactively responding to current market trends. Many companies have a hard time coming to grips with changes in the marketplace that make their product or service less relevant. As a result, they end up putting all their energy and resources into keeping flawed products and business models alive.
In fact, many large companies today are long overdue for their own version of the Hooters makeover.
IBM is a great example. The company that once transformed itself is again struggling. First-quarter revenue was down 5.1 percent this year, and over the past four years total revenue is up just 0.8 percent. Following the first-quarter earnings release, IBM Chief Executive Officer Virginia Rometty sent a video message to employees blaming the shortfall on executional misses and urging them to work harder. A bigger issue is that many of the company's products and services are losing ground to cloud computing, and IBM has been slow to rebalance its offerings to reflect this trend.
McDonald's finished the first quarter of 2013 with same-store sales down 1 percent and U.S. operating income down 3 percent. The company blamed a weakening economy and increased competition, but the more pressing issue is that McDonald's is on the outside of the growing trend toward healthier eating and thus is losing customers to chains with healthier options. While McDonald's has made some incremental moves in the right direction (such as introducing wraps), the company is fundamentally out of sync with consumer trends and needs a more radical makeover to reinvigorate growth.
Office Depot also has a flawed business concept. Its business is down 30 percent vs. five years ago. The company is suffering from the worldwide trend away from paper-based office supplies. While there are many possible ways Office Depot could reposition itself to better compete in the paperless office, it opted instead to buy rival Office Max—a company with the same set of problems. Rather than fixing its business model, Office Depot has essentially opted to double down on its current failed model.
A few companies have done a standout job of reinventing themselves and are generating strong shareholder value. Eighteen months ago, Netflix badly needed a transformation. The stock price had skidded from $295 per share to just $65. Investors doubted the long-term viability of the company's DVD-by-mail business.
Netflix management undertook an ambitious plan to refresh the company and turned it into a leader in the emerging video-streaming business. In the first quarter of 2013, revenue was up 18 percent compared with a year ago, and the stock has rebounded to more than $200 per share.
Cisco Systems also excelled at navigating changing technology trends. One of Chairman John Chambers's core principles is that "companies must reinvent themselves every three to six years to stay on top." Cisco's main competitors from a decade ago—Alcatel-Lucent, Siemens, Ericsson, and Nortel—today are just shadows of their former selves, as they failed to adapt. Cisco has used market changes as an opportunity to gain a competitive advantage by adapting its products and services faster than its rivals. As a result, its sales have grown 150 percent over the past 10 years.
Reinventing a well-established business is not easy. There are a variety of organizational obstacles, as people and systems are usually optimized for the old business model. But if an entrenched company like Hooters can change, there is hope for others.
Before it's here, it's on the Bloomberg Terminal.
LEARN MORE