Miami's Booze and Cruise Internship
Francesca Di Meglio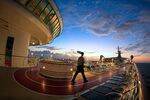 What do you get when you bring together a spirits and wine producer and a cruise line? Normally, the answer would be a booze cruise, but if you're a student at the University of Miami's School of Business Administration, the answer is the Emerging Leaders Internship Program, a 20-week internship spanning the spring and summer that exposes you to two different companies—Bacardi U.S.A. and Royal Caribbean Cruises
The brainchild of Michael Misiorski, chief financial officer of Bacardi Americas, and Brian Rice, CFO of Royal Caribbean Cruises, the internship has Miami MBA students spending 10 weeks each with the two companies. Misiorski and Rice, both of whom are Miami alumni who serve on the school's board of overseers, originally designed the internship to give students insight into the supply chain, from purchase to consumption, because Royal Caribbean buys products from Bacardi for its cruises.
Launched in 2011, the internship's focus quickly shifted as students began working. Now they are placed in all sorts of departments, including finance, revenue management, hotel operations (at Royal Caribbean), sales, strategy, and IT, says Rice. What makes the internship unique is that students get to experience both a private, family-owned company—Bacardi—and a publicly traded company, Royal Caribbean, that earns about $7.7 billion in sales annually.
The internship allows students the opportunity to have lunch with various executives to discuss career development. In addition, Royal Caribbean interns get a behind-the-scenes tour of the Oasis of the Seas and Allure of the Seas, two of the company's most important cruise ships.
"It is a chance to get them away from the spreadsheets," says Rice.
Irena Katzarkov, who is now a revenue management analyst at Royal Caribbean International, was among the first group of interns. At Bacardi, she created a marketing plan for one of the company's poorer-performing rums and offered recommendations on pricing and marketing strategy. At Royal Caribbean, Katzarkov worked in the Celebrity Cruises marketing department, where she focused on market research.
Working at two different companies helped Katzarkov realize her ability to be open-minded and flexible in the face of completely different cultures. At Royal Caribbean, she says, result-driven people who felt a certain level of accountability toward shareholders surrounded her, while Bacardi, being a family business, had a cozier vibe. There was free lunch for everyone every day, and the whole staff would gather together to eat, she says.
To get a spot in the internship class, MBA students interview with representatives from the two companies on campus. Although the internship is not necessarily a route to full-time employment, Katzarkov says it opened the door for her when she applied for the full-time job she now has with Royal Caribbean.
At the end of the internship, Bacardi and Royal Caribbean representatives head to the business school to hear interns present their thoughts about the learning experience and get their suggestions on how to improve the program.
"This internship is good for the university because it gives it one more differentiator when recruiting students," says Rice. "And it's great for the companies to give back to the community and test up-and-coming MBAs."
Join the discussion on the Bloomberg Businessweek Business School Forum, visit us on Facebook, and follow @BWbschools on Twitter.