Conde Nast and the WSJ: Miles of Video for All Types of Screens
Jeff John Roberts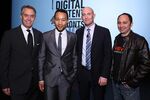 Two famous print brands offered up glitz and booze in New York City this week to persuade advertisers to invest in their growing vats of video content. The hoopla was part of Newfronts, a week-long push by media companies of all stripes to recast themselves as mini TV studios—and to grab a piece of television's massive ad budget.
In the case of the Wall Street Journal and Conde Nast, the companies are borrowing the language of the TV industry and inviting advertisers to sponsor "documentaries," "shows," and "original programming slates." The actual content, however, is typically a collection of 2-4 minute Web clips, and the marketing pitch often invites a single brand to slap its name on the entire package.
Will it work? Both the Journal (published by Dow Jones) and Conde Nast are relying on their historic brand power to attract video sponsors and, like everyone in media, are serving up their wares on all screens. But the two companies are also taking different approaches to scale and strategy. Here's a look at their offerings and how the companies are framing their new video identities.
Conde Nast wields considerable cultural and political power through such titles as Vogue, Vanity Fair, and GQ—but that doesn't mean the company and its famous editors, Anna Wintour and Graydon Carter, who were on an hand at Conde's ad event, know much about making video. Many readers, meanwhile, may not even know the videos exist.
Appearing to recognize that print prowess doesn't automatically transfer to video, Conde Nast went on a hiring spree, bringing in "video natives" from companies such as the Huffington Post and CW Networks, and giving them rein to create content in a hands-off environment. The "startup" (that's Conde Nast's word for the venture) is known as CN Entertainment and is also working with TV veterans who produced such fare as Mad Men and Project Runway.
CN Entertainment's output has been trickling out for a while and includes video series such as GQ's "10 Essentials" and Glamour's "Elevator Runway." On Wednesday, the company announced more than 30 new "original programming slates," which include Wired's "Angry Nerd" and programs tied to such titles as Teen Vogue, Epicurious, and Vanity Fair.
The new offerings represent a big expansion for Conde Nast's video efforts. But they but also come at a time that other companies are rushing to offer original programming too—AOL, Yahoo!, and the Weather Co. were just some of sites that made similar announcements this week.
To avoid being overlooked in this flood of content, Conde Nast is relying on syndication deals with sites such as Twitter and YouTube. The company is also promising to spend heavily on marketing to assure advertisers that someone will actually watch the videos.
"It's on us to make people know the brands are in the business to create video," Fred Santarpia, chief digital of CN Entertainment, told me at the event. "A lot of people fall down with the philosophy of 'build it and they will come'" He said the company might, for instance target GQ magazine readers with Facebook ads to make sure they're aware of the brand's videos.
Santarpia said he could not disclose revenue figures, only saying they were "healthy."
The Wall Street Journal for the past year has been pursuing its "WSJ Everywhere" strategy, which involves producing a lot of content and putting it in as many places as possible—from the iPhone to the Xbox, and more.
Unlike Conde Nast, the Journal has been relying heavily on its existing print teams to crank out the content. This typically means pulling reporters before a makeshift studio in the Journal offices or even recording them via Skype from their homes and hotel rooms. The result has been plenty of video but a mixed bag in terms of quality.
The Journal now appears to be increasing its efforts to pluck out the best stuff and package it as discrete channels. At a splashy event on Monday morning, executives touted the Journal's proximity to power brokers and invited advertisers to become exclusive sponsors of such fare as "Seib & Wessel," a senior journalist chat fest.
"This isn't your father's Wall Street Journal," war reporter Michael Phillips told the crowd. Perhaps to drive home the point, the event also featured appearances by rapper MC Hammer and a Bloody Mary stand to help ad and media executives start the week off right.
The Journal also announced a new documentary series, "WSJ Startup of the Year," sponsored by the New York Stock Exchange, that will feature famous entrepreneurs such as Richard Branson kicking the tires of upcoming companies. The publisher is also betting on lifestyle video content like "WSJ Cafe" and clips from popular sports writer Jason Gay.
According to its chief revenue officer, Michael Rooney, people are watching the videos because they are attached not just to the paper but to the Journal name.
"They want to follow this brand anywhere and anyhow they can get the content," Rooney told me at the event, adding that advertisers understand the viewers are high-income people and will pay top dollar to reach them. WSJ is now streaming 20-25 million videos a month with premium cost-per-thousand view rates coming in at $40-$60 a month.
This week's ad outreach by Conde Nast and the Journal comes at a time when digital display dollars are proving insufficient to offset the inexorable decline of their legacy print products. The turn to video promises higher ad income as online viewing takes off and big brands contemplate moving more of their TV budgets to the Web.
The video strategy seems obvious, but that doesn't mean it will be easy. To pull this off, the print companies will have to persuade advertisers that their videos can reach a wide enough audience to be worth their time (this is likely the reason the New York Times pulled down its paywall for online video last week).
At the same time, they will have to compete with a host of other media outlets suddenly jostling for video dollars, too, as well as newer outfits, such as PopSugar and Break Media, that have already figured out how to produce compelling videos on the cheap.
This flood of content from all corners could also depress the high rates that are attracting brands such as Conde and the Journal to video in the first place. And while a tilt of ad dollars from cable to online video seems inevitable, no one knows when this will actually occur.
"The market is growing. Everything points to more money moving into space," said CN Entertainment's Santarpia. "It's early—only time will tell."
Asked to frame it in baseball terms, Santarpia said it's only the second inning for the online video industry—and the first for companies like Conde Nast.
Also from GigaOM:
Smart TV Forecast: Gigabit Wi-Fi in the Living Room (subscription required)
With Metro PCS, T-Mobile Could Help Apple Reach 9 Million Potential New iPhone Buyers
IPad Is the Top-Selling Tablet, but Android Is Now the Most Common Tablet OS, Says IDC
Skinny RFID Tags Could Soon Show Up Embedded in Paper
More Offline Chrome Apps Arrive: Web Store Previews Packaged Apps
Before it's here, it's on the Bloomberg Terminal.
LEARN MORE