IBM Brings 'Big Data' to Business School
Francesca Di Meglio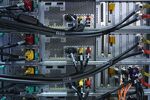 IBM is teaming up with Rensselaer Polytechnic Institute's Lally School of Management & Technology to offer a masters degree in business analytics, which will kick off in September. The partnership is the latest one of about 300 that IBM has with academic institutions, mostly business schools, all related to big data analytics.
Positioning itself as a leader in big data, IBM has had relationships with many of the universities for years. The partnerships have evolved to focus on big data analysis, a hot subject both in academia and the corporate world. Thanks to a proliferation of technology, social media, and the Internet, there are more data to analyze and organize than ever before, says Richard Rodts, manager for global academic programs in predictive analysis for IBM.
These alliances with academia are a response to the growing shortage of people who can not only understand the information but leverage it to make decisions, says Rodts. A May 2011 report by McKinsey Global Institute and McKinsey's Business Technology Office found that by 2018, the United States could face a shortage of 140,000 to 190,000 people with deep analytical skills, as well as an additional shortfall of 1.5 million managers and analysts with the know-how to use the analysis of big data to make effective decisions.
"We really need those kinds of professionals in the marketplace," says Rodts. "In many cases, we want them to be part of the IBM team."
IBM will provide software, curriculum, case studies—including guest speakers—and experiential learning projects to the Lally School. One highlight for students will be working with real data from IBM, as opposed to those created just for the classroom, says Thomas Begley, dean of the Lally School. Mentoring and coaching from IBM is another perk, says Rodts.
A one-year program, the Lally M.S. in business analytics, will require students to complete 30 credits. At the end, they will have to take on a final project that will involve working with data to solve a problem and make recommendations to a client, which could be IBM or another company.
The ideal students for the program are math and statistics majors in college, says Begley. The first class will be composed of 15 to 20 students, but the school hopes to expand the program to 60 students within three years, he adds. The school has received about 25 applications so far. Begley says students in engineering and science at the university have also shown interest in the program.
"Students will be attracted to this program because of the number of job opportunities in big data and the terrific salaries," he says. "It calls for them to use creativity and it's the kind of work that attracts applicants to graduate programs."
Other institutions teaming with IBM include the business schools at Fordham University, which is focused on analytics within marketing, and Yale, which has an emphasis on using data to reveal customer insights.
Join the discussion on the Bloomberg Businessweek Business School Forum, visit us on Facebook, and follow @BWbschools on Twitter.
Before it's here, it's on the Bloomberg Terminal.
LEARN MORE