DoCoMo May Pick Galaxy S4 and Xperia for Promotions
Mariko Yasu and Grace Huang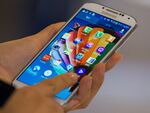 NTT DoCoMo Inc., the only major Japanese wireless carrier not offering Apple Inc.'s iPhone, may include Samsung Electronics Co.'s Galaxy S4 among phones it will promote as it narrows the range of handsets to cut costs.
In its first attempt to recommend specific models to customers, DoCoMo will pick "one or two" phones for promotions at nationwide outlets and is considering Samsung's latest flagship model, Chief Financial Officer Kazuto Tsubouchi said in an interview yesterday in Tokyo. Handsets made by Sony Corp. and Sharp Corp. will also be considered given the success of Sony's Xperia Z and Sharp's Aquos Phone Zeta, he said.
Japan's biggest mobile carrier also plans to reduce the number of models it introduces by as much as half, from about 20 every six months, to cut procurement expenses by more than 50 billion yen ($513 million) as it places larger orders with fewer handset makers, Tsubouchi said. The carrier is still considering adding the iPhone after losing market share to smaller SoftBank Corp. and KDDI Corp., both of which offer Apple's smartphone.
"As we now have some products that we feel confident about offering, we plan to focus more on those," Tsubouchi said. "Previously, we didn't have a model that could match the iPhone."
DoCoMo, which has more than 60 million subscribers in a nation of 127 million people, has had some success luring users to Sony's Xperia Z and Sharp's Aquos Phone Zeta, Tsubouchi said.
Sony, Sharp
The carrier sold about 630,000 of Sony's latest smartphone within two and a half months of its introduction and about 600,000 Aquos Phone Zeta handsets, according to the company.
"We can aim at much higher figures with promotions," Tsubouchi said, without giving specific targets for sales.
The carrier fell 0.8 percent to 159,700 yen as of the close of trade in Tokyo, paring this year's gain to 29 percent. That compares with a 51 percent advance for SoftBank, a 53 percent gain by KDDI and the 33 percent climb by Japan's benchmark Nikkei 225 Stock Average.
DoCoMo forecasts a 2.9 percent increase in net income to 510 billion yen this fiscal year and 3.8 percent growth in sales, it said April 26. The carrier plans to boost handset sales to 24.5 million from 23.5 million in the year ended March 31, it said.
"As we have said in the past, the iPhone is a very attractive handset for the Japanese market," DoCoMo Chief Executive Officer Kaoru Kato told reporters in Tokyo last week. "We are studying how introducing the phones would impact our strategy."
Before it's here, it's on the Bloomberg Terminal.
LEARN MORE