business
Did Insurers Pay Enough to Small Businesses Post-Sandy?
By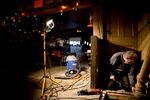 After Hurricane Sandy ravaged the East Coast, Karen E. Klein explained how businesses affected by the storm could wring the most out of their insurance coverage. Six months since the storm, how well have small businesses done at collecting on their claims?
It's not that easy to tell. According to the Insurance Information Institute, a group that represents insurers, policyholders filed about 1.5 million claims related to Sandy, 200,000 of which were filed by businesses. Commercial claims aren't sorted by company revenue, says Loretta Worters, a spokeswoman for the III, so it's difficult to know what percentage belongs to small businesses.
By the time all claims are settled, businesses will collect more than $9 billion, which is about 48 percent of the total $18.8 billion the institute expects insurers to pay out. Insurers have settled 93 percent of the total claims in New York and New Jersey, the states hardest hit by the storm, according to the III.
Of course, those numbers don't tell the whole story.
When Matt Chaban reported on Sandy-related claims in Crain's New York Business a month ago, he found that "attorneys—from white shoe lawyers to storm chasers from Texas and Florida" were in frenzied negotiations over the remaining disputed Sandy-related claims. Unsettled claims are likely to be for larger amounts, says Bob Hunter, an insurance expert at the Consumer Federation of America, because large claims are more likely to draw large discrepancies between what filers seek and what insurers ultimately offer.
Hunter thinks small businesses are more likely to have filed early. "The smaller the business, the more they're like individuals in how they settle claims," he says. "They're more apt to give in, less apt to fight, more in need of help."
Some insurers paid claims at a faster clip than others, according to David B. Caruso and Geoff Mulvihill of the Associated Press. They reported in February that some companies had left more than half their filers waiting on a check.
In a related vein, Small Business Administration disaster loan recipients also had to wait. In mid-April, when I asked the SBA what portion of the $279 million in approved Sandy-related disaster loans had been disbursed, the answer was only $39 million.
Before it's here, it's on the Bloomberg Terminal.
LEARN MORE