Chrysler Dealer Stole Paige, Integrated Dustbowl Team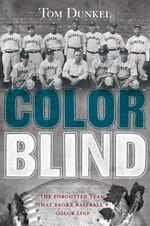 They played in a ramshackle ballpark on the prairie during the most trying economic period of modern times. The stands were separated from the field by chicken wire, the locker room had no showers, fans parked their cars in the outfield. This was baseball in Bismarck, North Dakota, in the 1930s.
Perhaps because it was so far from the major leagues, a special breed of ballplayer evolved in Bismarck, population 11,090. There, amid distress and dust storms, a Chrysler dealer put together one of the most remarkable teams ever, including future Hall of Famer Satchel Paige, who was frustrated in Pittsburgh with the Crawfords of the Negro League.
"He wanted out of Pittsburgh, the sooner the better," writes Tom Dunkel in "Color Blind: The Forgotten Team That Broke Baseball's Color Line" (Atlantic Monthly Press, $25). "In some ways North Dakota suited him, given its abundance of fiercely independent farmers and ranchers, its stubborn cusses and sagebrush eccentrics."
These North Dakotans beat squads with names like Gilkerson's Union Giants along with better-known clubs like the Kansas City Monarchs. Playing in a state where some counties had more than three-quarters of their population on relief, players like Paige and Quincy Troupe kept spirits up while crop prices plunged.
'Victory Season'
A decade later, baseball's greatest story unfolded in the big cities of the East and Midwest, where -- with the Depression dispatched and World War II over -- the sport had its renaissance.
The story told by Robert Weintraub in "The Victory Season: The End of World War II and the Birth of Baseball's Golden Age" (Little, Brown, $27.99) is one less of restoration than of restiveness. It was an era of great change, with new tensions between owners and players -- and a growing realization that major league rosters could no longer remain all-white.
In 1946, Harry Truman revived the presidential tradition of throwing out the first ball. It was a season dominated by three teams of abiding greatness: the Boston Red Sox (with Ted Williams, Dom DiMaggio and Johnny Pesky), the St. Louis Cardinals (Red Schoendienst, Stan Musial, Joe Garagiola) and the Brooklyn Dodgers (Ralph Branca, Pee Wee Reese, Eddie Stanky). The Cards beat the Dodgers in the first-ever baseball playoff.
That set up a fabled World Series between St. Louis and Boston and perhaps the most celebrated (and, in Boston, the most reviled) play in World Series history. The controversy about whether Pesky hesitated with the ball at shortstop as Enos Slaughter streaked home will never be fully resolved, but Weintraub absolves Pesky, saying he "reacted as well as could be expected."
'Chasing Perfect'
Bob Hurley is the son of a nurse and a pressman-turned-policeman. He was shaped by Notre Dame football, his family's work ethic and his own experience as a probation officer, and has produced amazing results as basketball coach at St. Anthony's high school in Jersey City.
This year his team finished 28-2. Seven times during the past four decades the Friars have been undefeated. Every player who joined his program as a freshman has won a state title.
Perhaps Hurley's "basketball contract" helps explain his success, especially item 10: "I will stay away from people and places that will not have a positive effect on me."
In "Chasing Perfect: The Will to Win in Basketball and Life" (Crown Archetype, $26), Hurley sets forth his secrets of success, which are not so much secrets as commonplaces: Behave well. Respect rules. Practice hard.
Positive Choices
Plus this one: "Make positive choices away from the court and you're more likely to make positive choices in the run of play." This book seems more spoken than written, but what is spoken is the harsh truth of life.
Let's linger a moment on Hurley's 1995-96 team, which sent eight players to Division I college ball. The team defeated a Lower Merion, Pennsylvania, team led by Kobe Bryant, but that's not the real meaning of the victory. Hurley benched his two top players because they hadn't been in school that day.
"I wasn't out to prove a point," he says, though of course he did prove one. "These kids messed up, that's all. When you mess up, there are consequences."
(David M. Shribman is executive editor of the Pittsburgh Post-Gazette. The opinions expressed are his own.)
Muse highlights include Peter Rainer on video and Amanda Gordon's Scene Last Night.
Before it's here, it's on the Bloomberg Terminal.
LEARN MORE