business
After the Bombs, Messages of Hope
By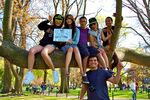 If empathy is a trait valued by MBA admissions officers, then it's not hard to see how Elsa Sze won a spot at the Harvard Business School last fall.
Sze, a former analyst at McKinsey and research assistant for the International Monetary Fund, is the woman behind Msg4Boston, an online memorial to the victims of the Boston bombings earlier this month.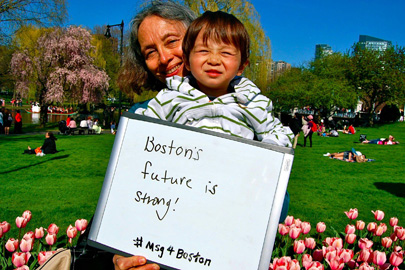 After seeing tributes to the city written in colored chalk and on notecards placed downtown, Sze left a white board and heart-shaped sticky notes in the HBS cafeteria for students to write their own messages. (Krystle Campbell, a former HBS cafeteria employee, was killed in the first explosion.) Next, Sze took the concept online.
Each weekend since the capture of suspect Dzhokhar Tsarnaev, the first-year MBA candidate and joint public policy student has gone around the city, asked people to write on her marker board, and photographed subjects holding up hopeful messages for her website. The photos feature several Red Sox jerseys, thank-you notes to first responders, and quite a few quoting an E.B. White poem that includes the line, "Boston is a sort of state of grace."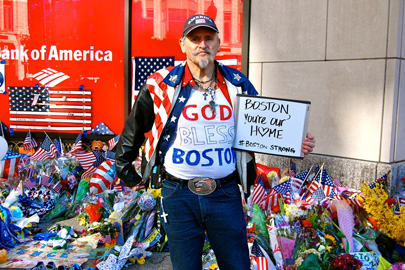 Sze, who will spend this summer working on a social enterprise startup, expects to continue taking photographs this weekend—despite HBS final exams that start Monday. She spoke about the project with Bloomberg Businessweek's Erin Zlomek.
Why do this?
I thought that after a suspect was captured, I would feel better, but when I woke up the next morning, I didn't feel that closure. I walked around Boston for a couple of hours and had this intense desire to connect with people. There's a beautiful quote that goes, "when sadness is shared, it's halved, and when hope is shared, it doubles." I've been thinking about technology a lot while in business school, and I thought we could share this by using technology.
How do you decide whom to approach?
This reminds me of a great story. I was walking around Copley Square last Saturday when I saw a guy dressed up as Big Bird. I asked about his costume and if he'd like to write a message. He told me his wife had been running in the marathon but was stopped at mile 19 because of the explosion. Apparently, they had a bet: If she ever finished a marathon, he would dress up as Big Bird. She went back last Saturday to finish the race, and there he was, waiting at the finish line.
But, back to your question. Not everyone is wearing a ridiculous costume for me to ask about. Basically, I just go up to people. Not everyone says yes, but most people are very willing.
What does this project have to do with business school?
In B-school, we focus on these big challenges, and there's an emphasis on big solutions. As students, our goals are almost always long term. In a spontaneous act on a Sunday, I went out and did this, and it made a difference to people. I think this experience has challenged me to think more about simple things I can be doing right now.
Join the discussion on the Bloomberg Businessweek Business School Forum, visit us on Facebook, and follow @BWbschools on Twitter.
Before it's here, it's on the Bloomberg Terminal.
LEARN MORE