In Top Public Sector Jobs, Women Still Lag
Ira Sager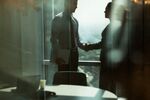 It should come as no surprise that women, underrepresented in boardrooms around the world, share a similar fate when it comes to positions of leadership in the public sector.
According to Ernst & Young's Worldwide Index of Women as Public Sector Leaders, women make up about 48 percent of the overall public sector workforce, but represent less than 20 percent of public sector leadership across the G20 countries the consulting firm studied. Ernst & Young ranked the G20 countries by the percentage of women in leadership roles and found that only four nations have at least one-third of top public positions filled by women. Despite a high percentage of women pursuing careers in the public sector (compared to private industry) and a decreasing percentage of men seeking employment in the public sector, "the people leading the public sector continue to be largely men," the study reports.
In Canada, the country that ranks first in Ernst & Young's ranking, women account for 45 percent of public sector leaders. No other country comes close to this figure, with the numbers of female leaders in the following five countries at around a third: Australia (37 percent), the U.K. (35 percent), South Africa (34 percent), Brazil (32 percent), and the United States (31 percent).
Ernst & Young found that the ratios of women in leadership roles vary widely. Over half of Germany's public sector workforce is female (52 percent), but only 15 percent of women have leadership positions. In Japan, the world's third-largest economy, women make up 42 percent of the public sector workforce, but only 3 percent are leaders. Russia, with the highest number of women represented across the public sector (71 percent), has just 13 percent in leadership roles. And in India, only 7.7 percent of public sector leaders are female. (By the way, no women in Saudi Arabia hold top public jobs.)
What these countries are missing, according to Uschi Schreiber, Global Government and Public Sector Leader for Ernst & Young, is the innovation, energy, and creativity that a more diverse workforce can bring to public service. Diversity, she writes, is "crucial to delivering more effective government and increased economic competitiveness."
As with the business community, the public sector has a lot more to do to get gender equality right.
Before it's here, it's on the Bloomberg Terminal.
LEARN MORE