Furnish Your Home Beautifully on the Cheap! That's Right -- You Can't!
by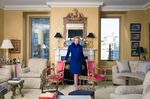 It will be a surprise to absolutely no one who has furnished a home: "Design on a dime" is a pipe dream. To decorate a house with casual elegance on the cheap, you've got to be either a person of leisure or a paid decorator. Everyone else can get in the back of the line at West Elm.
Take the society decorator Stephanie Stokes and her Park Avenue apartment. As she leads you through it, you're struck by her resourcefulness: a salvage yard here, a fishing town near Jakarta there, a couple of trips to the flea market, and presto, you've got yourself a home worthy of a coffee table book.
But when you consider the time Stokes put into finding just the right pieces (not to mention the shipping costs), all of a sudden it seems like a pretty expensive bargain. Whether you can pull a Stokes or not, though, it sure is fun totake her gracious tour .
James Tarmy reports on arts and culture for Bloomberg Muse, the arts and leisure section of Bloomberg News.
Before it's here, it's on the Bloomberg Terminal.
LEARN MORE