Network Upgrades Threatening 300,000 Europe Telecom Jobs
Daniele Lepido and Cornelius Rahn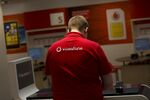 Marianne Wehner is among about 80 Vodafone Group Plc customer service employees in the Frankfurt suburb of Eschborn who were given a choice: Move to Halle, 400 kilometers (250 miles) to the east, for a job at a subcontractor at a "drastically lower" salary, or quit. Just one person is moving, said Wehner, a 20-year veteran at the company.
Vodafone "always said we wouldn't have to worry," the 47-year-old said in a phone interview. "But then it became clear they really didn't want us any longer." Vodafone confirmed that only one person accepted the transfer.
Many of Europe's 1.1 million telecommunications workers won't have the option even of moving or accepting lower pay as new technologies make their jobs redundant.
European carriers will probably cut their workforce by 30 percent -- more than 300,000 jobs -- over the next five years, said Franca Salis Madinier, chairman of the UNI Europa ICTS union, which represents telecom employees in 27 countries. Within a decade, industry employment will be cut in half as carriers seek to close an efficiency gap with North American peers, predicts a top executive at a major phone company who asked not to be identified because job cuts are sensitive.
Such cuts darken an already grim employment picture in Europe. Unemployment in the region is at a record high of 12 percent as governments slash spending. In Spain, where 6 million are out of work, the jobless rate stands at 27 percent.
'Moral Obligation'
The three biggest U.S. carriers -- AT&T Inc., Verizon Communications Inc. and Sprint Nextel Corp. -- have shrunk their workforces by almost a quarter since 2007, data compiled by Bloomberg show. In Europe, where phone companies serve more fragmented markets and governments often balk at firings, many have held back large-scale layoffs and have turned to asset sales and dividend cuts to bolster finances.
Across Europe, phone companies "often remain the largest employer and therefore the object of a certain amount of moral obligation not to decrease employment," said Fabio Colasanti, who oversaw telecommunications policy for the European Commission from 2002 to 2010.
The pace of job cuts is picking up as European governments set up austerity programs. Telecom Italia SpA last month reached a compromise with unions over the elimination of 3,350 positions, or about 6 percent of its domestic workers, in exchange for an agreement to refrain from hiving off call-center operations for a year.
More Layoffs
Vodafone, the world's second-largest wireless carrier, with about 86,000 employees in more than 30 countries, has said it will cut almost 2,000 jobs in Italy, Spain and Germany this year. In October, Sweden's TeliaSonera AB announced plans to eliminate 2,000 positions over two years.
Still, cuts like Vodafone's, which accounted for less than 4 percent of the Newbury, England-based carrier's European workforce, are far from enough, analysts say. More layoffs are likely as operators switch to fiber optic systems from maintenance-intensive analog networks running on copper wires.
About 10,000 employees at Deutsche Telekom AG could be laid off when the Bonn-based carrier makes that move, according to Michael Schwemmle at Input Consulting GmbH, which advises clients including the German government. Deutsche Telekom, 32 percent owned by the state, has reduced employment in its home market by 10 percent since 2008, to about 118,800 at the end of last year.
Shares Trailing
Deutsche Telekom says it's teaching veteran workers, such as those who check on cables in the countryside, to monitor and address problems in front of a computer screen. The company plans to fully switch off its analog network in 2018.
Shares of U.S. carriers have outperformed their European peers, helped by higher monthly wireless bills. AT&T has added 14 percent over the past 12 months, while Verizon has rallied 33 percent and Sprint has tripled. In the same period before today, Deutsche Telekom rose 6.3 percent, Telefonica SA lost 1.5 percent, France Telecom SA dropped 22 percent, and Telecom Italia declined 26 percent.
France Telecom said last week its first-quarter revenue fell 5.9 percent to 10.3 billion euros ($13.5 billion), as wireless customers in its home market spent on average 11 percent less than a year ago. Moody's Investors Service said April 10 that it may cut France Telecom's A3 rating, the fourth-lowest investment grade, if the carrier doesn't do more to trim costs and conserve cash. Standard & Poor's last week reduced its rating on the company.
Younger Generations
Deutsche Telekom lost 1 percent to 8.98 euros at the close of trading in Frankfurt. France Telecom fell 1.1 percent to 8.12 euros in Paris. Vodafone slipped 0.3 percent in London, Telecom Italia declined 0.4 percent in Milan and Telefonica dropped 0.1 percent in Madrid.
Even demand for call-center services -- which in recent years have been outsourced to India and eastern Europe -- may be declining as younger generations grow up using tablet computers and smartphones and are comfortable going online to solve problems such as sorting out their monthly bills.
Acquisitions in the U.S. wireless market are also helping carriers trim costs. As it merges with MetroPCS Communications Inc., T-Mobile -- a unit of Deutsche Telekom -- has announced plans to eliminate some positions at its headquarters in Bellevue, Washington.
European phone companies "have been pretty good at keeping people on the payroll when they're not needed," said Will Draper, an analyst at Espirito Santo Investment Bank in London.
Before it's here, it's on the Bloomberg Terminal.
LEARN MORE