MBA Journal: A Helping Hand for Part-Timers
Thomas Sneed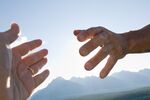 With my second semester wrapping up at Emory's Goizueta Business School, I am busy with case studies, group projects, and planning for upcoming final exams. Summer internships aren't as prevalent in my part-time program, but we still have plenty of things occurring to keep the MBA experience fresh.
For the first year of the Emory evening MBA program, the core classes are scheduled for us, and we don't have many opportunities for electives. This changes for the fall of our second year, and we are currently in the process of registering for those classes. So what classes do I want to focus on? My primary area of interest is management and leadership, but for this time frame, I can't choose those electives as I have yet to take the necessary core classes. Therefore, I will be branching outside my comfort zone for the next few semesters. Should I choose classes in an area of weakness, such as data analysis, to further enhance my skill set? Or do I focus on areas in which I have an interest but limited experience, such as entrepreneurship or social enterprise? I haven't made a final decision, but I know there is the possibility I will be trying something very different.
Since day one as an MBA student, I have been fascinated by the incredible networking element of business school. Two things at Emory in particular stand out for me: Goizueta's online networking bulletin board and our career services office for working professionals. The online bulletin board is called "6-degrees" and has frequent updates from students regarding "have" and "need" situations. These may be job opportunities, calls for contacts, or requests for assistance for a friend outside the program. The breadth of the entries is great, and it reminds me that I am in a program with an extremely diverse student body. I also regularly see postings from those who have already completed the program. To me, this speaks volumes about the benefits of this simple, yet highly effective, online resource.
We also have a career services department focused on the needs of working professionals, which is exactly the makeup of my group of part-time evening students. The office provides career resources in areas such as résumé writing, negotiating, and marketing oneself, and is very active with scheduling events geared toward evening and executive MBA students. This may not at first glance sound very different from any other professional program, but remember that I attend school part time. When I changed careers a few years ago, it had been years since I had updated my résumé or been on an interview. This may very well be the case with many of my classmates. This type of service recognizes the need for assistance even for experienced workers, and I appreciate this extra assistance.
That's about it for my first spring semester in business school. As many MBAs head off for the summer, my cohort will continue with classes. Let's hope the summer goes as well as the first two semesters.
Join the discussion on the Bloomberg Businessweek Business School Forum, visit us on Facebook, and follow @BWbschools on Twitter.
Before it's here, it's on the Bloomberg Terminal.
LEARN MORE