Yahoo!'s Weather: A Small Step in Mayer's Bigger Direction
by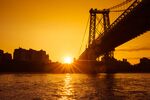 A considerable amount of time and pixels have been spent analyzing the tenure of Marissa Mayer as the chief executive officer of Yahoo!. But alongside thoughts about her maternity leave or the company's new (don't) work-from-home policy, Mayer's Yahoo has actually released some new products.
One of the first created under Mayer's watch is Yahoo Weather. As you may guess, it's a weather app—just like hundreds available for iOS devices. Yahoo's app distinguishes itself in two ways. To begin with, it looks great—far better than many other weather apps, which seem to be stuck in an aesthetic that I can only describe as early-period Weather Channel (cue the Najee).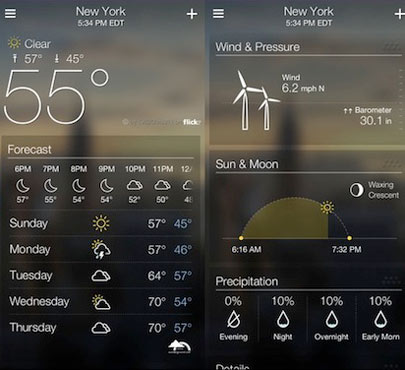 Yahoo's app displays a crisp photo of whatever city you're getting weather information for. That photo will not only be location-specific, it will be a shot that reflects the current weather condition. A sunny day in New York will result in a photo of the city taken on a sunny day; a cloudy evening will generate a different image. Turn your device to landscape mode, and you get a wider shot of the same image, though without any weather data.
The data itself are attractively presented and comprehensive enough for non-meteorologists; it's organized in tiles that you swipe up through. Swiping to the side can call up other cities you've saved as your favorites. You can rearrange the order of the tiles, so radar information can sit above, say, wind data.
Those location-and-weather-specific city images are the other notable thing about Yahoo Weather. In many cases they come from Flickr, that vast trove of user-generated images Yahoo owns. In order for a Flickr image to be used, a user would submit it to the site's Project Weather page, where it gets approved or denied. Not every location has a set of weather-specific images: Pick New York, and you get pretty shots of the skyline, but select Minnewaska, Minn., and you're looking at the generic sun-in-a-blue-sky shot that's also used for East St. Louis, Ill., and Xenia, Ohio. (Twentynine Palms, Calif., however, is well represented.)
The app also takes some geographic liberties: Search for Belle Glade, Fla., and you get a Flickr photo that's actually from Singer Island, Fla., which is an hour away by car and about as different a place as you could imagine.
Building Yahoo Weather accomplishes two goals for the company. First, it delivers on Mayer's promise to create "beautifully designed, more intuitive experiences for our users." The app is certainly pleasing to look at, though it did make me wonder if Yahoo's designers don't owe a round of drinks to Microsoft's Windows Phone 8 team, what with the tiles and the big numbers.
(Let's just pause here to note that if a design inspiration can be determined here, it was Microsoft, not Apple, that supplied it. Huh. Also: Yahoo provides weather data to Apple's own Weather app, but Yahoo's app is better. Huh, again.)
The second thing Yahoo Weather does is pull together two parts of the company, Yahoo and Flickr, to create something new and interesting, if only mildly so. After all, no matter how slick you make it, there's something resolutely small beer about a weather app. The data is a commodity, so all you can really do is dress it up in new and attractive ways. Yahoo's clearly done that here (it's now my go-to weather app), but this all seems like a toe in the water. Yahoo Weather is a small indication that Mayer's company can create something attractive and combine existing corporate assets in a clever way. Now it just needs to do that with something really significant.
Before it's here, it's on the Bloomberg Terminal.
LEARN MORE