The 'Zuckerberg of Russia' Faces Trouble
by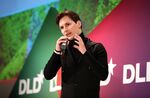 Pavel Durov is Russia's Mark Zuckerberg. Just five months younger than the Facebook founder, the programmer formed VKontakte in 2006, giving the Russian-language social network two years to build a following beforeFacebook arrived . Today, VKontakte has 43 million users in its home country, dwarfing Facebook's Russian presence.
Durov's defiance defined him as much as Zuckerberg's geekiness. He's fought music labels claiming VKontakte breaches copyright laws, and when KGB-successor Federal Security Service pushed him to shut down pages by anti-Putin groups last year, he tweeted a hoodie-wearing German shepherd with its tongue sticking out.
Whenbillionaire Alisher Usmanov's Mail.ru tried to take control , Durov took to Twitter again, flipping the bird and dubbing it "an official answer to trash holding Mail.ru."
But Durov's self-assurance may be slipping. He founded the site with money from two rich schoolmates, who got a combined 48 percent stake. They backed him when he wouldn't sell shares to Usmanov, but last week, money won out. They sold to United Capital Partners, a fund known for doing deals for state-run energy giants Gazprom and Rosneft.
Durov's 12 percent stake means Mail.ru (40 percent) and UCP (48 percent) need his backing to control VKontakte, though he doesn't seem to be feeling like the belle of the ball. After prosecutors suspected him of being involved in an April 5 incident in St. Petersburg, when a policeman was struck down by a Mercedes-Benz, TV Rain says he's fled the country.
His press office denies any wrongdoing and declined to comment on Durov's current location.
In Russia, navigating business and political networks is tougher than building a social one.
Before it's here, it's on the Bloomberg Terminal.
LEARN MORE