The Spanish 27.2% Fiction
By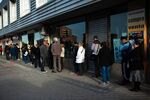 The Danish population evaluates a school girl who earns some money in the shadow economy and was asked about the acceptance, and the same question was asked about a skilled tradesman. They clearly show that there is a high acceptance [pdf] of shadow economy labor work for a school girl compared to a well-established skilled tradesman with a reasonable high income. … It is a quite interesting finding which demonstrates that Danes tolerate shadow economy earnings from low-income earners but not from high-income earners.
—Friedrich Schneider, The Shadow Economy and Work in the Shadow: What Do We (Not) Know? Johannes Kepler University of Linz and IZA, Discussion Paper No. 6423, March 2012.
After the media hysteria of 27.2 percent unemployment in Spain wears off, possibly, just possibly, someone will read the wide and smart literature on black-market economies.
Schneider scores a header on a corner kick with a terse 73 pages. I'll cut to the chase: Spain is not Denmark and is decidedly not the United States of America.
The U.S. lives a the-IRS-will-get-you 8.4 percent "size of the shadow economy." Denmark sins with a pre-crisis average SoSE at 17.7 percent. The evaders of Spain stun any and all at 22.5 percent. Again, all of this is before a Costa del Crash housing collapse.
Where's the primal scream with depression-level joblessness? None. Yes, it's bad—no, horrible—but I and we peer through a less-black-market prism.
If I have learned one thing about public finance, it is that a society's commonwealth is based on a just tax system that allows people to get out of bed in the morning and work.
The peripheral European crisis is tragic, but stop with the 27.2 percent hysteria. Madrid's fiscal system was and is a joke. The poor and middle class are crushed by a timid elite unwilling to clear markets fantasizing about days of yore.
Call it Hayeksclerosis.
Spain is draped in black, and drowning. Call it the 27.2 percent fiction. Discuss.
Before it's here, it's on the Bloomberg Terminal.
LEARN MORE