Samsung Sold One Third of Smartphones as IPhone Slows
Bloomberg News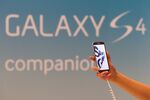 Samsung Electronics Co. captured a third of the global smartphone market in the first quarter as growth for Apple Inc.'s iPhone dropped to its slowest pace ever, according to data released by Strategy Analytics.
Shipments of Samsung smartphones surged 56 percent to 69.4 million units in the March quarter, Boston-based Strategy Analytics said in an e-mailed statement yesterday. Apple iPhone shipments rose 6.6 percent to 37.4 million units, while LG Electronics Inc. gained third place for the first time, it said.
Global smartphone shipments in the period rose 36 percent to 209.5 million units, driven by adoption of third-generation service in China and fourth-generation service in the U.S., Strategy Analytics said. Samsung today posted a record quarterly profit on surging sales of its Galaxy handsets as demand for its high-end smartphones and cheaper traditional models in emerging markets stoke sales.
"Samsung shipped almost two times more smartphones and grew nine times faster than Apple during the quarter," Neil Mawston, a Strategy Analytics analyst, said in the statement. "Samsung should continue to deliver strong smartphone volumes worldwide in the second quarter."
The Suwon, South Korea-based company's new flagship Galaxy S4 handset goes on sale today.
Smartphones Outsell
The quarter was the first in which smartphones, the high-end devices with color screens that can access the Internet to download games and videos, outsold the traditional mobile phones used for voice or text only, according to data released yesterday by researcher International Data Corp.
Total mobile phone shipments rose 4 percent globally to 418.6 million devices in the quarter, according to the IDC report. Smartphones accounted for 216.2 million units, or 51.6 percent of the total, IDC said.
"Phone users want computers in their pockets," IDC analyst Kevin Restivo said in the report. "The days where phones are used primarily to make phone calls and send text messages are quickly fading away. As a result, the balance of smartphone power has shifted to phone makers that are most dependent on smartphones."
Samsung and Cupertino, California-based Apple led the global smartphone market with shares of 33.1 percent and 17.9 percent respectively, Strategy Analytics said. LG was third with 4.9 percent global market share, it said.
Huawei Technologies Co. and ZTE Corp., China's two largest makers of equipment for phone networks and both based in Shenzhen, rounded out the top-five globally, with market shares of 4.8 percent and 4.3 percent respectively, Strategy Analytics said. The rankings from IDC also showed Samsung, Apple, LG, Huawei and ZTE as the top-five global smartphone vendors.
In terms of total mobile phone shipments, Samsung also led worldwide with 27.5 percent market share, followed by Nokia Oyj with 14.8 percent, and Apple with 8.9 percent, according to IDC. LG and ZTE completed the top five in mobile phone share, with 3.7 percent and 3.2 percent, IDC said.
— With assistance by Edmond Lococo
Before it's here, it's on the Bloomberg Terminal.
LEARN MORE