Paul Ryan Is Channeling Bill Clinton on Immigration
By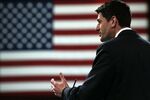 The most encouraging sign for proponents of immigration reform in the wake of the Boston Marathon attacks has been Paul Ryan's emergence as a vocal supporter. Earlier this week the Wisconsin Republican congressman and former Mitt Romney running mate joined Democratic Representative Luis Gutierrez of Illinois at a pro-immigration rally in Chicago. Afterward, Ryan spoke at a luncheon at the City Club of Chicago. "If you work hard and play by the rules, you can get ahead—that is what the American idea is," he said. "No matter what the condition of your birth, you can make yourself what you want to be. That is an incredible idea."
Writing in the National Review, Robert Costa attributed Ryan's emergence on the issue to the influence of Jack Kemp, the late New York congressman and 1996 GOP vice-presidential nominee for whom Ryan worked as a young aide. Kemp believed, as Ryan evidently does, that legal immigrants vitalize the economy.
But the most obvious, if perhaps unintentional, influence on Ryan (at least in the language he used) wasn't Kemp. It was Bill Clinton. Championing people who "work hard and play by the rules" is a signature Clinton phrase—perhaps the signature Clinton phrase. President Obama, among others, has adopted it. He even used it in his last State of the Union address.
"Absolutely, that was Bill Clinton's way of expressing the middle-class focus of his New Democrat vision," says Will Marshall, a co-founder of the Democratic Leadership Council and a close adviser to the former president. "It was a staple of his language. Clinton meant it to have a very specific meaning to swing voters in that era, who'd come to see Democrats as a party of redistribution. This was his way of centering the party on values of hard work and fairness."
Marshall added that he has warm feelings toward Kemp, who died in 2009. "We all knew him, and as representatives go, he was a pretty good guy," he says. "I think he would have not been a restrictionist on immigration."
But Marshall isn't about to cede ownership of a phrase he considers "re-spun rhetorical gold" to Kemp or Ryan. "The phraseology is definitely Bill Clinton's," he says. "But you can't expect Paul Ryan to admit that."
Before it's here, it's on the Bloomberg Terminal.
LEARN MORE