Norwegian Oil Fund Gains $37 Billion as Stock Markets Rally
Stephen Treloar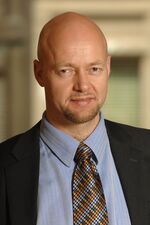 Norway's sovereign wealth fund, the world's largest, gained 219 billion kroner ($37 billion) in the first quarter as stocks surged amid unprecedented stimulus from central banks to boost economic growth.
The $728 billion Government Pension Fund Global returned 5.4 percent in the first three months of the year, the Oslo-based investor said today. Stocks returned 8.3 percent, while bond investments climbed 1.1 percent. Real estate investments lost 0.3 percent.
"The favorable performance reflects the strong push in equity markets, particularly in January and February," said Yngve Slyngstad, chief executive officer of Norges Bank Investment Management, the central bank's asset management arm, in a statement. "Among the major stock markets, the U.S. and Japanese markets made the largest contributions."
Equities rallied as central banks in Europe, the U.S. and Japan signaled more stimulus measures to bolster growth. Policy makers from Washington to Tokyo have injected money into their financial systems by buying bonds, while the European Central Bank has said it stands ready to implement a similar policy to backstop the region's distressed nations.
"It's of clear importance to the risk and return of the world's capital markets," Slyngstad said in an interview.
The MSCI World Index of stocks has gained 9 percent so far this year, adding to a 13.2 percent rally in 2012, and the U.S. benchmark Standard & Poor's 500 Index jumped to a record in the first quarter.
Investment Weightings
Europe's biggest equity investor, which gets its investment guidelines from the government, held 62.4 percent in stocks, 36.7 percent in bonds and 0.9 percent in real estate at the end of March. It's mandated to hold 60 percent in stocks, 35 percent in bonds and 5 percent in real estate, while allowing for fluctuations. The fund mostly follows global indexes and has some leeway to stray from those benchmarks.
The investor, which posted its second-best year in 2012, is shifting its strategy to capture more of global growth. It's moving asset allocation away from Europe as emerging markets in Asia and South America gain a bigger share of output. It's also retooling its bond portfolio to a gross domestic product weighting from a market weighting to avoid nations with growing debt burdens.
The fund said today that it reduced bond holdings in the world's four major currencies, the yen, the dollar, the euro and the pound, to 80 percent from 90 percent a year earlier.
'Significant Degree'
In the quarter, the fund reduced investments in government bonds in Japan, Austria and France, while increasing its investments in the U.S., the Netherlands and Germany.
The investor increased its holdings in emerging market debt, boosting investments in Mexican government bonds to 26.2 billion kroner as of March 31 from 22.6 billion kroner at the end of 2012. It also invested in Colombian fixed income assets and bought equities in Kuwait and Oman, CEO Slyngstad said.
"We see an increase in investments in emerging markets and their currencies to a significant degree over the next 10 years," he told reporters in Oslo.
The fund's largest stock holding at the end of quarter was Nestle SA at a value of 36.8 billion kroner. The largest bond holdings were in U.S. Treasuries at a value of 341.8 billion kroner, followed by Japanese and German government bonds.
Capital Infusion
Norway generates money for the fund from taxes on oil and gas, ownership of petroleum fields and dividends from its 67 percent stake in Statoil ASA, the country's largest energy company. Norway is western Europe biggest oil and gas producer. The fund invests abroad to avoid stoking domestic inflation.
The government deposited 60 billion kroner of petroleum revenue into the fund in the three months through March. The return exceeded by 0.3 percentage point the benchmark set by the Finance Ministry.
The investor got its first capital infusion in 1996 and has been taking on more risk as it expands globally. It first added stocks in 1998, emerging markets in 2000 and real estate in 2011 to boost returns and safeguard wealth. It's struggling to meet a 4 percent return target after rates plunged to record lows and global stock markets failed to retrace a 2007 peak.
The fund said in the first quarter it took several initiatives to promote active ownership, and will in the future participate in the election of board members at some companies.
Before it's here, it's on the Bloomberg Terminal.
LEARN MORE