More Cars and Fewer Tanks Equal 2.5% GDP Growth Rate
By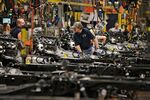 The U.S. economy grew at a slower-than-expected annual rate of 2.5 percent in the first three months of the year, according to the government's first estimate released today. Personal consumption on cars and other goods added to the expansion, while another big decline in government spending, especially on the military, subtracted from it. While falling short of economists' expectations of roughly 3 percent growth, the quarterly estimate was at least better than the 0.4 percent growth in the last quarter of 2012.
The economy has probably slowed down since the first quarter, in part because of the delayed effect of January tax increases and in part because of the new bite from automatic, across-the-board federal spending cuts known as sequestration. Harm Bandholz, chief U.S. economist at UniCredit Research, said in a note today that the "GDP growth likely slowed again to 1.8 percent in the current quarter."
Paul Ashworth, the chief U.S. economist at Capital Economics, wrote that the first-quarter growth was "still impressive in a quarter that was marked by an almost unprecedented fiscal squeeze." Morgan Stanley's economics team called the performance "surprisingly resilient."
Defense spending fell at an annual rate of 11.5 percent in the first quarter, on the heels of a 22.1 percent decline in the last three months of 2012, according to government data.
"The pause in business investment likely reflects uncertainty about the economic outlook in Q1," Joseph LaVorgna, chief U.S. economist for Deutsche Bank Securities, wrote in a client note.
The Commerce Department's Bureau of Economic Analysis said in its "advance" estimate that of the total annualized growth rate of 2.5 percent, personal consumption expenditures accounted for 2.24 percentage points, of which about two-thirds was spending on services. Additions to inventories added 1.03 percentage points. On the downside, foreign trade subtracted 0.5 percentage point because of a big increase in imports; slower federal spending subtracted 0.65 percentage point; and residential investment—homebuilding—added 0.31 percentage point.
Before it's here, it's on the Bloomberg Terminal.
LEARN MORE