In the SEC's JOBS Act Lawsuit, a Message to Critics
by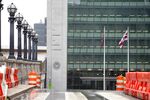 The SEC announced a lawsuit on Thursday against a business in Spokane Valley, Wash., accused of defrauding 21 investors of about $400,000. The agency's news release leads with charges that the company fooled investors "with claims to raise billions of investment capital under the Jumpstart Our Business Startups (JOBS) Act."
The SEC has been criticized for not finalizing the overdue JOBS Act rules that would make it easier for small businesses to raise capital. The agency, which opposed the law before it passed last year, warned that it could open the doors to fraud. Reading between the lines, the lawsuit is an implicit reminder to the frothy crowdfunding industry awaiting the SEC's rules that concerns about fraud are real. (The SEC declined to comment.)
It's also a message to would-be scammers that the agency is policing people who intend to raise money under the JOBS Act provisions."I think we're going to see a number of litigation initiatives like that, just to remind people," says Sara Hanks, a former SEC attorney and chief executive of CrowdCheck, which plans to vet companies seeking crowdfunding investments. "It's definitely in their interest to make some publicity now before it gets out of hand."
The SEC alleges that Daniel F. Peterson and his company, USA Real Estate Fund 1, misrepresented returns to investors in e-mails and newsletters and on the company's website, suggesting investments would yield 500 percent or more over 10 years. "These projections were baseless and misleading, or purely fictitious," the SEC's lawsuit says. The SEC's complaint (pdf) details the agency's case.
Peterson, reached by phone Thursday afternoon, denied any wrongdoing. "USA Real Estate Fund 1 Inc. has never sold a share of stock to anybody," he told me. He said he personally sold some of his ownership stake to "21 of my dear friends and family members to put this company together." He also said the SEC has letters from each of the investors saying they understood that some of the money would be used for personal expenses.
Peterson told me he learned about the investigation last June and doesn't know why the SEC came after him. "Up until now, this has been Hitler's Germany," he said. "This has been the Gestapo running to and fro doing whatever they want to."
He says he registered the company in 2010 under a securities law exemption that allows private companies to sell shares to a limited set of investors without a public offering. He said the company, which was going to invest in real estate, Treasury bonds, and other securities, "isn't even open yet. The company isn't even accepting investors at this point."
Peterson did file a form D in 2010 that indicated the company had revenue of more than $25 million and planned to raise up to $100 million in investment. That was later amended several times, most recently indicating revenue between $1 and $1 million and plans to raise $2 billion.
The SEC says Peterson spent the $400,000 on himself and his wife, including trips to Palm Springs and Las Vegas. The SEC is asking the court to shut him down, make him return the money, and pay unspecified damages.
The alleged six-figure fraud that touched two dozen people may seem like relatively small change for the nation's top securities watchdog, something that could be handled at the state level, with less fanfare. But the defendant's alleged invocation of the JOBS Act is a useful reminder why the SEC is taking its time writing the new rules. There's plenty investors should be wary of, even before loosening the restrictions on raising money for small businesses.
Before it's here, it's on the Bloomberg Terminal.
LEARN MORE