When Twitter Rogues Move Markets: A Timeline
By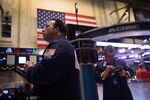 On April 23, a tweet sent from the official Associated Press Twitter account reporting that an explosion at the White House had injured President Obama caused the Dow to drop 140 points and wiped $136 billion from the S&P 500. The incident came shortly after the U.S. Securities and Exchange Commission announced that companies can use social-media sites such as Twitter and Facebook to share market-moving company announcements.
The AP hack highlights the potential pitfalls of relying on social networks for tradable information, but false tweets have been affecting markets and companies for the past few years. In some cases the impact of false tweets can be immediate. On August 6, 2012: A Twitter account claiming to be that of Russian Interior Minister Vladimir Kolokoltsev alleged that Syrian president Bashar al-Assad had 'been killed or injured,' causing the price of West Texas Intermediate crude to climb by more than $1 to just shy of $92.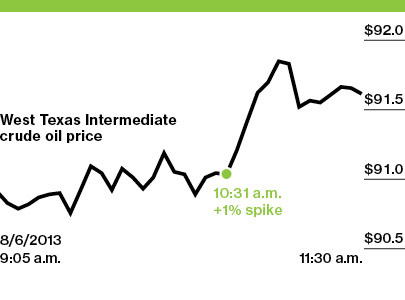 On Jan. 29, 2013, mobile-audio and voice-processing company Audience experienced a stock drop of more than 25 percent after tweets from an account falsely portrayed as posing as that of short-selling firm Muddy Waters claimed that Audience was being investigated by the U.S. Department of Justice. Its stock price went down from 12 to 8.87 in about two minutes before quickly recovering.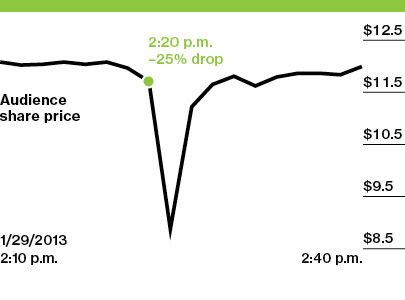 On Jan. 30, 2013, biopharmaceutical company Sarepta Therapeutics shares plummeted 9.9 percent in a few seconds after someone with the Twitter user name @citreonresearc posed as an influential short-seller and alleged improprieties at the company.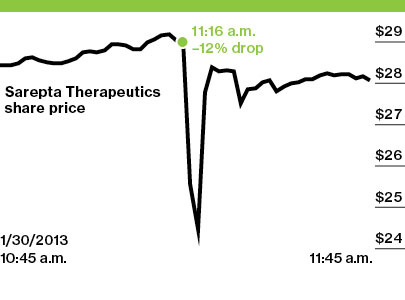 On April 23, 2013, a tweet from the official Twitter feed of the Associated Press reporting that an explosion at the White House had injured President Obama caused the Dow to drop 145 points and the S&P 500 index to erase $136 billion in a matter of minutes. Both markets quickly rebounded after the AP confirmed that its Twitter account had been compromised by a Syrian hacker collective.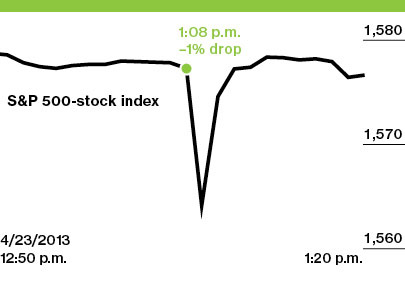 However, false information disseminated on Twitter doesn't always have a significant impact on markets. On Sept. 9, 2011, after Web show What's Trending inaccurately reported on Twitter that Apple founder Steve Jobs had died, Apple shares fell only 1 percent and quickly rebounded after the program issued a correction (CBS ended its relationship with the show shortly afterward.)
Similarly, Twitter account @Greenlightcap, claiming to be prominent short-seller David Einhorn, tried to induce fluctuations in Herbalife's stock by sending a tweet suggesting that Einhorn was picking sides in the ongoing spat between investors Carl Icahn and Bill Ackman over the company. The tweet read: "The $HLF tug of war will in the end come down to who has more money to play with. I wouldn't want to be in Bill's shoes right now #TeamIcahn. There was no noticeable change in Herbalife's stock, and CNBC's Herb Greenberg quickly confirmed that @Greenlightcap was not Einhorn.
With the SEC and FBI investigating the AP hack and Twitter beefing up its password security protocols, major incidents such as the Twitter crash may become rare. But as long as individuals continue to trade based on insights gleaned from social media, the potential for a single tweet to shift markets remains.
Before it's here, it's on the Bloomberg Terminal.
LEARN MORE