UBS Builds Its Investment Prowess
A reputation for privacy is no longer enough to attract clients
By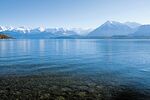 When UBS wealth manager Abdallah Najia came to Switzerland from Dubai in March for a week of training with 34 colleagues, he was stunned by what he heard. "The first couple of days have been shocking," said Najia, who advises clients with more than $50 million to invest, during a break between lectures at UBS-owned Seepark Thun Congress Hotel on Lake Thun. "They sort of cut our legs off and said, 'You guys are at risk of extinction.' We need to evolve."
The shock therapy was part of an effort to reinvent the wealth-management business, which suffered during the financial crisis and after the bank's admission in 2009 that it helped Americans evade taxes. From the end of March 2008 through June 2010, assets fell 20 percent. Chief Executive Officer Sergio Ermotti's goal is to have the wealth management units contribute half of the company's pretax profit by 2015, up from 32 percent in 2005. To get there, Juerg Zeltner, who heads UBS wealth management outside the Americas, says the bank needs to establish a reputation for investment expertise that it didn't need in the past, when the promise of Swiss privacy and discretion was enough to draw clients.
In 2011, UBS hired Alexander Friedman, an American who served as chief financial officer for the Bill & Melinda Gates Foundation, to beef up the bank's investment analysis and strategy operation, and make it more like those at money managers such as Pimco and Blackrock. As UBS's chief investment officer, Friedman, who usually works standing up at his desk and wears a Nike FuelBand to monitor his physical activity, has broadened the range of information UBS factors into its investment recommendations and reduced the time it takes to develop them. "We cut our investment process to five days from three weeks," Zeltner says. The company considers the views of its own strategists, as well as its billionaire clients and outside experts. Friedman likens the process he's put in place to "a well-designed emergency room in a hospital, organized to minimize costly errors."
On March 20, the same day that Najia was in Thun, Friedman and Mark Haefele, UBS's global head of investment, were preparing for the monthly global investment committee meeting. The two-hour session was held at UBS's Zurich headquarters in a top-floor room where the windows were fully covered by blinds. On the agenda was the deadlock surrounding efforts to stave off a financial collapse of Cyprus. Friedman mentioned Federal Reserve Chairman Ben Bernanke's news conference scheduled for later that day, noting the crisis would help Bernanke argue that the Fed should continue its bond-buying program. "It's going to give him some good ammunition to fight off the hawks," Friedman said. So Cyprus could be "good for the markets in a counterintuitive way." The discussion affirmed the bank's view that U.S. stocks would continue to perform well despite the crisis in Europe.
UBS issues opinions on every asset class, in all regions, giving price or yield targets over a six-month horizon. Recommendations to buy U.S. junk bonds and U.S. stocks were among the bank's most successful last year, according to Friedman. Recommendations it made until the end of September to buy sovereign bonds in emerging markets boosted performance—as did bets on Western companies that get at least 20 percent of sales or earnings from emerging markets. In mid-April, UBS was advising clients to go light on government bonds in favor of emerging-market and investment-grade corporate bonds, as well as high-yield notes.
Zeltner says the revamped investment effort is paying off: Assets under management rose by 71 billion Swiss francs ($76 billion) to 821 billion francs last year because of investment gains and 26.3 billion francs added by customers, much of the money coming from Asia and emerging markets. He says the real payoff will come when clients increase their appetite for risk and start trading more. At the end of 2012, advisory clients held 29 percent of their assets in cash, according to UBS.
Along with affecting investment decisions for the more than $100 billion that the bank manages for clients, Friedman's views provide guidance to client advisers such as Najia. To make sure the advice is put to good use, last year UBS started requiring all client advisers to take a diploma-granting course about markets and portfolio management approved by Switzerland's State Secretariat for Economic Affairs, and this year started sending select advisers to a masters course like the one offered in Thun. The company developed software that sends daily alerts to advisers when their clients' portfolios vary from client-specified risk levels or the bank's recommendations. It's also starting to offer clients the option of paying a flat fee for advice rather than paying commissions on each transaction. "We need to change the way we think about our industry," Najia says. "When I go home to Dubai, the first week I'll do nothing else but talk about this."
BOTTOM LINE -
The bottom line: UBS wants wealth management to contribute half of the company's profits by 2015, up from 32 percent in 2005.
Before it's here, it's on the Bloomberg Terminal.
LEARN MORE