Richard Cordray and the CFPB Are Monitoring Your Banking Habits
The CFPB is spending millions to collect data on consumer behavior
By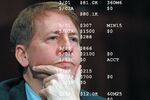 The Consumer Finance Protection Bureau is following the example of big companies that mine pools of information for insight into consumer behavior. The agency maligned by big banks for being overaggressive is assembling a Big Data operation to monitor how millions of Americans interact with lenders and rack up debt.
The two-year-old CFPB—which recently announced it's recouped $425 million for consumers wronged by financial-services companies—is building massive data sets with records from companies it oversees. It's demanding information on credit cards, credit monitoring, and debt cancellation products from major banks, and spending more than $10 million to buy data on auto and payday loans as well as mortgages from Experian, CoreLogic, and other companies. "Within the next year," says Sendhil Mullainathan, the consumer bureau's assistant director for research, "CFPB will be the best place for consumer finance data."
The agency aims to identify how financial products and services are used and abused so it can sharpen its rulemaking and do a better job policing the industry. "A very important function at the outset is to see who's making a lot of money from a particular practice relative to other companies," says Ronald Rubin, a former enforcement attorney for the agency who's now a partner at Hunton & Williams in Washington.
Bank executives are fuming that the agency is casting such a wide net. "Do they need the reams and reams and reams of data we're having to provide to them?" Susan Faulkner, senior vice president at Bank of America, asked in a speech at an industry conference this spring. Hundreds of bankers in the audience let out grunts of agreement. "The agency was founded with a mission to watch out for American consumers, not to watch them," Republican Senator Mike Crapo of Idaho said at a Senate Banking Committee hearing on April 23. His colleague Mike Johanns, a Republican from Nebraska, added: "To many people this is going to sound downright creepy."
Big Data "is the way of the world," Richard Cordray, the CFPB's director, countered at the hearing. "The big banks know more about you than you know about yourself and me, too," he said. "The notion that the regulators wouldn't keep up with them in trying to do our job of overseeing them, I think would be quite misguided."
Joan Claybrook, a former head of the National Highway Traffic Safety Administration, says the agency was able to diminish injuries by building a database to catalog auto safety defects. "It's useful to have a broad, basic database so you can evaluate new problems quickly," Claybrook says.
The CFPB is considering making its data sets public. If it does, it will have to ensure that whatever it releases doesn't give away identities, says David Jacobs, an attorney at the Electronic Privacy Information Center. The CFPB says that won't be a problem: It's prohibited by federal law from collecting records with names, Social Security numbers, or any other personally identifiable information. Researchers have no interest in specific individuals anyway. "Just the opposite," says Mullainathan. "They need to know about thousands of people."
BOTTOM LINE -
The bottom line: The CFPB's decision to gather and publish data on how Americans interact with banks has a Big Brother feel to it, some Republicans say.
Before it's here, it's on the Bloomberg Terminal.
LEARN MORE