Regulating China's Shadow Banking System Isn't Easy
The country's massive informal lending market resists regulation
Bloomberg News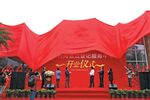 On a morning in March, row after row of chairs in the waiting room of Wenzhou Private Lending Registration Service Center sit empty. Zhou Xiang, a manager at one of the five government-sanctioned loan brokers operating in the center, which opened in 2012, hasn't had a single customer today. "The volume of lending is so low we ourselves won't be here long without expanding into some other businesses," he says.
The dearth of clients helps explain the failure of China's year-old effort to regulate informal lending. Former Premier Wen Jiabao chose to locate the center in Wenzhou, a city of 9 million in southeastern China, after more than 80 businessmen in the area committed suicide or declared bankruptcy because they were unable to make payments on black-market loans. Brokers like Zhou match cash-strapped businesses with private lenders, draft loan contracts, and monitor monthly payments.
Wen's goal was to impose some controls on what is a huge but disorderly market. Many Chinese savers prefer to lend their money to businesses and real estate developers, rather than letting it languish in a bank account. Estimates by UBS put the size of the nation's so-called shadow banking system at $3.4 trillion, equal to 45 percent of gross domestic product. In Wenzhou, almost 90 percent of families and 60 percent of companies participate in the informal market for loans, according to a 2011 survey by the People's Bank of China.
China's economy is growing at the slowest pace in 13 years, and the real estate market has weakened. That's making it difficult for businesses and individuals to pay down black-market loans. At least 25,900 lawsuits involving disputes over 46.2 billion yuan ($7.5 billion) in private lending were filed in Wenzhou in 2012, a more than sixfold increase from a year earlier, according to the Zhejiang province's supreme court.
Chen Shenghua, a taxi company owner in Wenzhou, lost 1.5 million yuan after he took out a bank loan using one of his properties as collateral and loaned the money to a friend at a monthly interest rate of 5 percent. Chen says he was never paid back and then sued, only to find his friend owed money to dozens of others as well. I don't believe in friendship anymore," he says. "I only lend to people who can provide me with collateral and a notarized lending contract."
In Wenzhou, the volume of private loans is down 20 percent from its peak two years ago, according to Zhou Dewen, chairman of the city's Small and Medium-sized Enterprises Development Association. Still, not many companies are turning to the new lending center for help. Loans arranged by the center's brokers totaled only 594 million yuan as of March 11, according to Chen Xijun, a director of the local Chamber of Commerce. "This is significantly below our expectation and has become an embarrassment," he says.
The main reason companies don't seek credit through the center is that they lack collateral, says Chen. That's also why only 3 percent of China's 42 million small- and medium-size companies borrow from banks, according to brokerage Citic Securities. Loans arranged by the brokers don't come cheap. Zhou's firm, Sudaibang, charges interest of 24 percent on an annual basis, when fees are factored in, which is the highest rate allowed. The average annual rate on regular bank loans was 6.78 percent in December.
While officials in other cities have expressed interest in opening their own registration centers, the hopes that accompanied the opening of Wenzhou's are giving way to disappointment. "I was excited when the government announced the reform here. But now I know that it has nothing to do with micro firms like us," says Li Jianlong, marketing and sales director at footwear manufacturer Wenzhou Fulite Shoes. Li tells of a cash-strapped customer who recently returned 4,000 pairs of shoes because he couldn't make payments and didn't qualify for loans. The shipment was resold to North Korea at a loss. Says Li: "At least we got the shoes back."
Before it's here, it's on the Bloomberg Terminal.
LEARN MORE