pursuits
Q&A: Director Dante Ariola Trades Car Ads for Colin Firth
By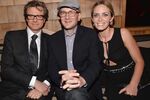 Do you know Dante Ariola, the filmmaker whose debut feature, Arthur Newman, comes out on April 26? Maybe you don't recognize his name, but you probably know some of his work. For more than 15 years, Ariola has written and directed commercials for brands such as Coca-Cola, Mercedes-Benz, Nike, and Levi's. That Travelers Insurance (TRV) ad where people and cars snowball down a San Francisco street? That was him. Ariola's most recent work for Jim Beam, starring Willem Dafoe, feels less like a commercial and more like a film short.
Bloomberg Businessweek talked to Ariola about Arthur Newman, how realistic Mad Men really is, and what it feels like to join the ranks of Michael Bay as one of the few directors to successfully cross over to Hollywood from commercials.
How hard is it to move from commercials to a feature film?
They're two completely different muscles. When you work in commercials, you do learn the craft. On a feature the craft stuff translates—cinematography, editing—but you've gotten so used to working in a small, succinct space that to maintain the vision you had for the film over a much longer form is very hard. It's a different sort of exercise. An enjoyable one, I think. But maybe not everyone agrees.
How did you learn that different exercise?
I tried to have an understanding of who the characters were and how they were acting in any given moment. So instead of thinking of it as one big film, I thought, how are they acting and modulating themselves in this scene? And this scene? We'd try different things in different takes. There was a scene in a bus station where a guy dies, and then Emily Blunt laughs and sings a song and [Colin Firth] thinks she's crazy. We did it with just a little hum and then more and more, and then I told Emily to go full-on crazy. I wanted to see how far we could go in one scene.
Do you have that kind of freedom when you shoot a commercial?
I'm in a good position in advertising where most people want me to be involved because they like my work. I did a commercial for Jim Beam with Willem Dafoe. I wrote that script, I shot it, and they let me edit it. It's harder when you first start out—that's when you have the agency and client fighting against you. But at this point, there's a level of trust that comes built in.
If you've got it so good in advertising, why did you switch to feature films?
I had just turned 40 years old. It's one of those milestones where you go, "Wow, I'm 40. What have I been doing with my life? Where am I going?" You take stock in your life. I was going through that when I was reading this script. The idea of two characters trying to start their lives over really struck me. Plus, I liked the idea that two people who'd normally never be together are suddenly stuck in motel rooms and cars together. They get to know each other, but in this very escapist sort of way.
That's sort of what the Jim Beam commercial is about, too. Different directions your life can take.
I actually wrote that script after I started work on the film. Jim Beam said they had Willem Dafoe for a commercial, but they didn't have a plan. I immediately pictured him as a bunch of different people. I think I subconsciously plagiarized the script. It literally never dawned on me until the other day. I had no idea I was so drawn to the idea of identity.
I have to ask this since you work in advertising: What do you think of Mad Men?
I'm a big fan of Mad Men. When I watch it I feel like I'm at work, but in the 1960s. I can still see a lot of parallels in the industry today. There's much less womanizing, but the hard drinking is still there. I see the truth in the show. You see how the world has changed and how it hasn't. It really put a lens on contemporary life.
How has advertising changed since?
I think advertising has gotten more sophisticated along with its audience. It used to be a hard sell, and now there's a focus on storytelling.
That probably makes it easier for people like you to break out of it.
It comes in waves. There was that first wave of guys who were primarily commercial directors: Alan Parker, Ridley Scott. They went on to do amazing films, and the door was opened. But after Michael Bay came along, people associated commercial directors with Hollywood popcorn movies. That's changing again. Jonathan Glazer did Sexy Beast; Spike Jonze did Being John Malkovich. Now if you're going to make commercials and films, at least you don't have to make a commercial film.
Arthur Newman is being promoted on BitTorrent. What do you think of your movie being essentially given to the program that people use to pirate movies?
Who knew that BitTorrent had legal content? I thought we were only supposed to get porn from there.
Before it's here, it's on the Bloomberg Terminal.
LEARN MORE