Obama Wants More Food Aid to Be Locally Sourced
Obama wants to buy crops abroad to help feed more hungry people
By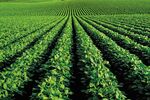 CARE, one of the world's biggest charities, used to participate in a U.S. government food aid program inelegantly known as "monetization." Every year the group received about 400,000 pounds of free, American-grown commodities and in turn sold them at markets in 22 developing countries. It used the proceeds to finance its own antipoverty programs—some related to food, others having little to do with it.
CARE collected about $45 million a year peddling U.S. crops paid for by American taxpayers. But the program required significant red tape and staff. Plus, the imports created competition with local farmers, depressing prices and discouraging development of local agriculture. "You could be pumping food into these markets and contradict your goal to get the market to work on its own," says Blake Selzer, senior policy advocate at CARE. The charity decided to bow out of monetization in 2007. Selzer says U.S. food aid "is an outdated program that's needed reform for a long time."
The Obama administration agrees and wants to overhaul its $2 billion in food aid programs, some of which date back to the Eisenhower era. It's pushing to transfer authority over the spending from the U.S. Department of Agriculture to the U.S. Agency for International Development, reducing funds for American crops. USAID would be allowed to buy food from farmers closer to where it's being distributed and give out cash vouchers to help the hungry, or deposit food stamps onto the smartphones of those in need. The administration says it currently feeds 53 million hungry people a year overseas, and that with these new reforms it could help an extra 2 million to 4 million at no additional cost.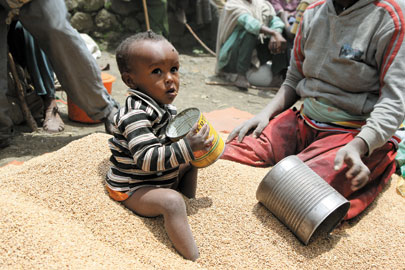 Farm groups, shipping companies, and charities that have become accustomed to the guaranteed revenue delivered by food aid programs are lobbying Congress, which must sign off on the proposal. "Growing, manufacturing, bagging, shipping, and transporting nutritious U.S. food creates jobs and economic activity here at home," wrote Maersk, Land O'Lakes, the Alliance for Global Food Security, and 60 others in a recent letter to the U.S. Senate Committee on Foreign Relations.
Other major food donors make their purchases in the region they're trying to help. The U.S.—the world's biggest food donor—is different. Every year it buys about 2 million tons of crops from U.S. farms and ships the food to crisis areas and charities overseas. Because of the transport required, the system isn't very efficient. Of every U.S. taxpayer dollar spent on food aid, only about 40¢ on average goes toward food, says Christopher Barrett, a Cornell University economist who studies the issue. Shipments can take four to six months to arrive at their destinations, and crops often rot along the way, according to the U.S. Government Accountability Office. "The current approach to food aid can become, at times, an impediment to its very own mission," says Raj Shah, the administrator of USAID.
USA Maritime, a coalition of companies and unions, says current food aid programs account for 44,000 domestic jobs for farmers and mariners, many of which could disappear if Congress agrees to the overhaul. Shipping companies are "severely disappointed that the Obama administration has moved forward with this misguided proposal," says James Henry, USA Maritime's chairman.
The idea was born under President George W. Bush. As part of the 2008 Farm Bill, Congress approved pilot programs for purchasing some relief food abroad. Farmers were as hostile to the idea then. "The agriculture industry in the Midwest sees this as a threat to exports, which is ridiculous," says Andrew Natsios, a professor at Texas A&M University who was the head of USAID when the Bush White House was pushing for the test run. Food aid accounts for roughly one-half of 1 percent of U.S. food exports; that means losing the government's business "won't affect grain prices one bit," Natsios says.
With so much of Congress's attention focused on making government leaner, the administration hopes lawmakers will agree it's time for reform. USDA Secretary Tom Vilsack, whose agency loses under the proposal, says it's hard to argue with. "This is one of those examples," he says, "where we believe we can create greater efficiencies."
BOTTOM LINE -
The bottom line: The White House says a 60-year-old policy of buying food from U.S. farmers and shipping it to crisis areas is long past its sell-by date.
Before it's here, it's on the Bloomberg Terminal.
LEARN MORE