M&A News: CP All, Votorantim Cimentos, AIG, Kroton Educacional
by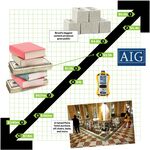 1. In Asia's biggest takeover this year, billionaire Dhanin Chearavanont's CP All, which operates convenience stores in Thailand, offered about $6.6 billion for discount retailer Siam Makro.
2. Brazil's No. 1 cement producer Votorantim Cimentos plans to raise as much as $5.4 billion in an IPO.
3. Chinese investors led by New China Trust Chairman Weng Xianding will pay $4.8 billion for a 90 percent stake in American International Group's plane-leasing unit, say two people familiar with the deal.
4. Brazil's Kroton Educacional is buying Anhanguera Educacional for $2.5 billion in an all-stock deal that will create the world's biggest for-profit education company.
5. Georgia-Pacific, the U.S. paper and pulp producer controlled by the Koch brothers, will pay $1.5 billion for Buckeye Technologies, which makes specialty fibers from wood and cotton.
6. Switzerland's ABB will pay about $1 billion to acquire Power-One, a U.S. maker of equipment used to connect solar power sources to the electricity grid.
7. Europe's No. 2 insurer, Paris-based Axa, will purchase a 50 percent stake in Chinese auto insurer Tian Ping for about $631 million.
8. Miami-based Opko Health is buying Israeli drugmaker Prolor Biotech for about $480 million to combine two companies that count U.S. pharmaceutical billionaire Phillip Frost as their largest shareholder.
9. New Jersey-based Honeywell will acquire gas-detection company RAE Systems for $340 million.
10. An auction of furniture and fixtures from Paris' historic Hôtel de Crillon raised $7.8 million, six times the starting prices. The 100-year-old hotel, where Madonna and the Shah of Iran have stayed, will use the money for a two-year renovation.
Before it's here, it's on the Bloomberg Terminal.
LEARN MORE