Investor Jim Rogers May Buy Gold If Prices Drop to $1,300
Chanyaporn Chanjaroen and Swansy Afonso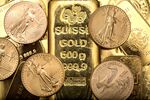 Jim Rogers, who predicted a commodity rally in 1999, said he may buy gold if a bear market deepens and prices fall to $1,300 an ounce or below.
Bullion for immediate delivery tumbled to $1,321.95 on April 16, the lowest since January 2011, stoking a frenzy among coin and jewelry buyers from the U.S. to India and Australia. Rogers, the chairman of Singapore-based Rogers Holdings, hasn't bought any bullion after the slump, he said in an interview.
"If it goes to $1,300, I hope I am smart enough to buy some," he said in Singapore. "If it goes lower to $1,200, I hope to buy even more. If... that's not a prediction."
Bullion lost 14 percent in 2013 as investors including the University of Texas Investment Management Co., the third-largest U.S. academic endowment, sold the metal after a 12-year rally. Gold coin sales by the U.S. Mint are heading for the highest since December 2009 as buyers took advantage of the worst two-day slump in three decades on New York futures.
"Gold was acting very unusually for the last 12 years and was overdue for a decline," Rogers said in a separate interview on Bloomberg India TV. "Gold will make a proper bottom before resuming the bull market."
Paulson's Bet
Morgan Stanley said this week the peak in the price "has now passed," while Goldman Sachs Group Inc. said April 23 it exited a bet on lower prices while saying bullion may fall even more. The declines in prices are attracting retail investors, while billionaire John Paulson has stuck with his view that the metal will climb as a hedge against inflation.
Spot gold traded 1.2 percent higher at $1,448.44 an ounce at 6:39 p.m. in Singapore. Prices are 7.2 percent below the April 11 close of $1,561.45 an ounce that preceded a 14 percent slump in two sessions through April 15, the worst since 1983.
Demand for gold in India, the biggest consumer, is double the level for this time of year, said Rajesh Mehta, chairman of Bangalore-based Rajesh Exports Ltd., the nation's largest exporter of gold jewelry and a retailer. Nationwide daily sales of jewelry, coins and bars may be about 4 metric tons, compared with normal levels of about 2 tons to 2.5 tons, he said today.
"The rush is reasonably good," said Mehta. "Last week was unprecedented. The frenzy seen last week is not there but volumes are good and almost similar to last week."
India Premium
UBS AG said April 23 that physical-gold flows to India, the world's biggest importer, approached the highest since 2008, while Standard Chartered Plc said shipments last week were 20 percent above a previous record.
The surge in demand is forcing jewelers to pay a premium of as much as $10 an ounce for immediate delivery, compared with $1 an ounce to $1.5 before the price slump, said Mehta. The precious metal may drop to $1,370 within three months if funds continue to exit gold-backed securities, he said.
Holdings in the SPDR Gold Trust, the biggest bullion-backed exchange-traded product, are set for the largest monthly decline since trading began in 2004. Russia and Kazakhstan expanded reserves for a sixth month in March, International Monetary Fund data show.
Before it's here, it's on the Bloomberg Terminal.
LEARN MORE