HBS Professor Brings Jay-Z, Lady Gaga to the Classroom
By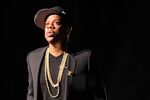 The cast list of characters in professor Anita Elberse's class at Harvard Business School reads like the credits of a surreal reality television show. Jay-Z, LeBron James, Lady Gaga, and Maria Sharapova are all featured at one time or another. Elberse writes case studies on the rise, fall, and critical decision-making associated with some of the biggest names in media and entertainment, and her class, "Strategic Marketing in Creative Industries," is one of the highest-rated among Harvard MBA students.
Elberse's in-class guests have included Lady Gaga's manager, Troy Carter, Walt Disney Chairman Alan Horn, and Manchester United coach Alex Ferguson. This summer she will start teaching a version of the course for executives visiting HBS's campus, and by fall she expects to release a book that explores "why superstars are paid unimaginable sums" and why entertainment executives "spend outrageous amounts of money in search of the next blockbuster."
Elberse spoke about her work with Bloomberg Businessweek's Erin Zlomek. Below are edited excerpts of their conversation.
How do you choose a protagonist for a case study? For example, why focus on Lady Gaga and not Rihanna?
There isn't a single way I choose. Sometimes I hear from a practitioner in entertainment. Or I may read in the news about a decision someone made that was puzzling, controversial, or heavily debated. These make for great cases. If someone has had extraordinary success, I look into it—same thing for someone who has had a big failure. The subject matter has to excite me in some way.
What drew me to LeBron James was learning about his decision not to go with an agent and establish his own firm to handle his business ventures and marketing. I had previously done a case on Maria Sharapova who had gone the more traditional route. With LeBron, I knew I'd be able to look at the advantages and disadvantages of each path.
With Lady Gaga, I was very impressed with how fast she came up. In late 2008 no one had heard of her, and by 2009 she was one of the biggest stars in the world. I wanted to know what decisions her manager made to contribute to her fast rise.
Your case study on Manchester United was one of HBS's best-selling cases last year. Why do you think that resonated so widely?
It's one of the biggest sports franchises in the world. Alex Ferguson, the head coach, has had more success than any other coach in the history of the sport. The case was about understanding what makes him an effective leader, and I think that premise is just really appealing. People want a look inside the kitchen. They want to understand why he's been so successful and what drives him forward.
Your class is one of the most popular courses at HBS, yet only 3 percent of last year's grads took jobs in entertainment or media fields. What's the appeal?
I think many more of my students will go into creative industries over the course of their careers. For example, they might go into consulting or something else first.
Even if they're not going into entertainment, it's a very useful course to understand the world of marketing. I think many sectors are adopting some of the concepts we see in entertainment, and it's a really good industry to study because things have changed so fast—think about the impact of digital technology and how much there is to learn from the music industry.
There is also a close link to brand management. At a consumer-goods company, you might see one or two product launches in your career. In media and entertainment, there are hundreds of product launches a year. These cases apply to consumer goods, advertising, fashion, and other areas.
Do you have a personal favorite case study you've written?
No. They're all my babies, I can't pick a favorite.
Join the discussion on the Bloomberg Businessweek Business School Forum, visit us on Facebook, and follow @BWbschools on Twitter.