H&M, a Master of Cheap Fashion, Moves Upscale
Its new accessories chain takes a page from faster-growing rival Zara
By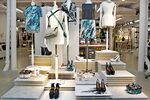 Hennes & Mauritz's H&M apparel chain made its name churning out fun, cheap fashions—$9.95 skinny jeans, $12.95 polka-dot ballet flats—that are almost disposable. The Stockholm-based retailer counts on a continually changing assortment of rock-bottom-priced goods to help keep shoppers coming back for more. Now growing austerity in Europe is pinching even sales of low-priced apparel. But rather than cutting prices further, H&M is testing a higher-priced accessories chain called & Other Stories—yes, it starts with an ampersand—in a bet that budget-conscious shoppers will still spring for affordable luxuries such as a fancy scarf or a trendy lipstick shade.
As it seeks to make up ground lost to rival Inditex, parent of the Zara chain and the world's largest clothing retailer, and win a bigger share of the $111 billion market for shoes and accessories in Western Europe, H&M is opening seven outlets of the new chain this spring. Rather than rely on copies of hot styles, & Other Stories will feature fashions from H&M's own ateliers in Paris and Stockholm. The first store, a two-story shop on London's Regent Street a few doors down from an H&M, opened in March. It sells a £145 ($221) Clare Vivier tote, £10 brass rings, lipsticks promising the perfect pout, and Nike shoes. Accessories offer "a very immediate way of buying into a fashion trend without having to commit to a full fashion look," says Jane Francis, who teaches at the London College of Fashion.
European retailers are embracing accessories to offset slowing sales of apparel. Sales of bags and costume jewelry are forecast to grow more than 13 percent through 2017, to $18.7 billion, twice as fast as clothing, according to Euromonitor International. It's also an opportunity to move into pricier goods. "H&M is getting a lot of pressure from low-price retailers on the one hand and from retailers like Inditex, which reacts faster to demand in the fashion world, on the other," says Sydbank analyst Søren Løntoft Hansen. With & Other Stories, H&M can "build some bridges to a higher price segment."
The & Other Stories chain will offer a limited selection of more expensive clothing, but most of the merchandise will be wardrobe add-ons such as jewelry, lingerie, and shoes in four basic styles labeled minimalist, bohemian, industrial, and glamorous. "& Other Stories is a totally different concept, a totally different brand, with its own creative team and creative expression," says Pernilla Wohlfahrt, head of new business at H&M. "So it was natural and essential for us to put it in a different store."
Early sales at & Other Stories have "far exceeded" expectations, so H&M might accelerate the chain's expansion, Hennes & Mauritz Chief Executive Officer Karl-Johan Persson said during an earnings conference on March 21. H&M may add more stores this autumn, most likely in Europe. "We have to evaluate how the openings are going and take it step by step," Wohlfahrt says, "but we believe the concept can work in all H&M's markets." In addition to its shops in major European cities, & Other Stories will ship online orders to 10 countries in the region. The brand's website features "stories," sequences of photos showing how items can be worn.
With the new chain, H&M is following Inditex's strategy. The Spanish company has expanded with the Massimo Dutti chain, oriented toward urban professionals, and seven other brands. In 2008 it opened Uterqüe, its own fashion and accessories chain, which has 92 stores and posted 9 percent sales growth last year. Zara made up 66 percent of sales and 29 percent of stores for Inditex.
H&M has added about 150 outlets of its upscale COS and three other nonflagship brand stores since 2007. But those, plus the new & Other Stories shops, account for less than 6 percent of H&M's 2,818 outlets globally. Given the limited rollout, it will be at least five years before the new brand will have much impact on H&M's profitability and growth, Société Générale predicts.
"They are trying to move away a bit from the too-sanitized, fast-fashion, mass-market feel of H&M and move a bit more toward an almost independent, more entrepreneurial feel," says Daniel Lucht, an analyst at consumer-goods forecaster ResearchFarm. Still, & Other Stories will help the company win customers who might otherwise shop at Zara, and who wouldn't likely spend much at H&M, says Suzanne Stahlie, managing director at retail consultancy FutureBrand in Paris.
Before it's here, it's on the Bloomberg Terminal.
LEARN MORE