Getting Its 787s Back Won't Save Air India
Even after a bailout, the carrier can't pay all its bills
by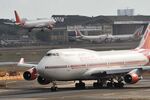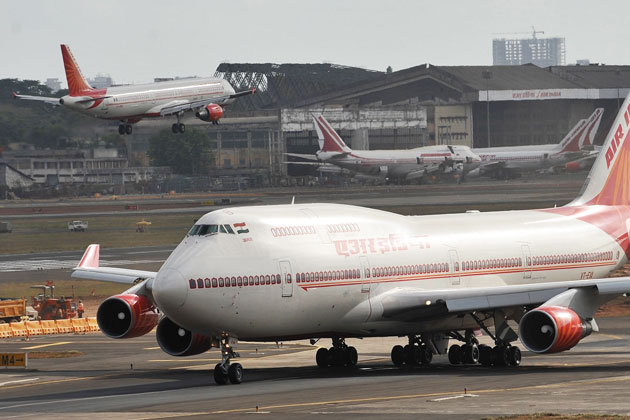 When Boeing's 787 Dreamliner was grounded in January after fires involving its lithium batteries, few airlines were more rattled than Air India. The financially ailing carrier has based much of its turnaround plan on the fuel-sipping all-composite jetliner. Only a few months earlier it had begun flying the aircraft on long-haul international routes meant to lure business flyers traveling to, and through, the subcontinent. Lucrative long-haul flights have helped turn Middle East carriers such as Emirates into major global airlines. Yet even though Boeing's battery fix has been approved by regulators and the Indian carrier's six 787s could return to service as early as May, there's still turbulence ahead for the airline.
That's because Air India has plenty of other planes that won't be leaving the tarmac anytime soon. The reason: It simply can't afford to fly all its aircraft. The carrier, which has lost at least 281 billion rupees ($5.2 billion) since April 2007, is saddled with $8 billion in debt. It owes 42.5 billion rupees to jet fuel suppliers, Panabaka Lakshmi, India's junior minister for petroleum and natural gas, said in parliament on March 8. Among its 16 grounded planes are leased jets it hasn't returned to their owners because it can't afford to refurbish them. "Some are just empty shells standing," scavenged for spare parts, Air India Chairman Rohit Nandan says about the parked aircraft.

Extensive government aid was supposed to buoy the fortunes of the nation's oldest carrier. Air India has received 92 billion rupees of state funding since the fiscal year that began in April 2009 and is set to receive another 50 billion rupees this year. The government last year pledged to give as much as 300 billion rupees to the airline by the end of this decade. But not all of that aid has been used to improve or expand Air India's service or to make the carrier more competitive against low-fare upstarts that have surfaced over the past decade. Of the 20 billion rupees the carrier received from the government in December, for instance, a quarter went to staffers who had been working without pay. "The funding Air India receives largely goes into outstanding vendor payments, and strategic issues remain unresolved," says Kapil Kaul, who heads the Indian unit of consultant CAPA Centre for Aviation. "The priority should be to make the entire serviceable fleet operational."
India should be a pretty sweet market for an airline. It has a huge population with growing incomes and a creaky system of roads and rail lines. To profit from India's attractive demographics, though, carriers need to keep their planes airborne. That's especially important for Air India because more revenue from paying passengers would reduce its constant need for working capital loans.
Air India's inability to fully utilize its fleet means it operates fewer local flights than smaller rivals. The carrier won regulatory approval for 1,788 departures a week in the six months through September, compared with low-fare rival IndiGo's 2,821 and SpiceJet's 2,467, according to the Ministry of Civil Aviation. "It's a criminal waste of public money," says Harsh Vardhan, chairman of Starair Consulting, a New Delhi-based company that advises airlines. "With all these funds pumped in, what's stopping Air India from spending on aircraft?" Aviation Minister Ajit Singh says the airline is "really spending a lot for getting the smaller aircraft back in service."
Air travel in India is expected to surge threefold by 2020. But in an effort to gain market share—or simply keep cash coming in—the subcontinent's airlines have engaged in brutal price wars. Air India, which hopes to carry 35 million passengers by 2015, from 9.3 million last year, is currently offering advance-purchase fares as low as 3,981 rupees ($73) on Delhi-Mumbai flights. Airlines in India need to charge at least $112 per seat with 76 percent occupancy to recover costs, according to a Boeing estimate. Air India had 71 percent on its local flights in February. Cutting fares too much is particularly risky in India, where local states and provinces levy their own jet fuel taxes—currently averaging 25 percent—adding to carriers' cost burden.
Air India can ill afford to misprice its flights, because it's less efficient than rivals. The average utilization of its 18 Airbus 320 narrow-body jets was 7.1 hours a day in the year ended March 31, 2011. That's lower than the 13 hours for Go Airlines (India) and 11.4 hours for IndiGo, government data show. And Air India had the worst record for domestic flights' on-time performance—68 percent—among the nation's five carriers, according to regulators. That poor showing contributed to Air India's market share slipping to fourth in February, as SpiceJet edged past it for the second time in 12 months. Competition will likely intensify, because Southeast Asia's biggest budget carrier, AirAsia, will start an India unit by year-end. And Abu Dhabi-based Etihad Airways on April 24 agreed to buy a 24 percent stake in Mumbai-based , a matchup that could steal some of the high-end flyers Air India hopes to woo.
Before it's here, it's on the Bloomberg Terminal.
LEARN MORE