Comrades, Steeds Fall in Civil War Show; Exotic Sargent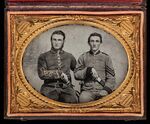 You enter the Metropolitan Museum of Art's poignant exhibition "Photography and the American Civil War" through a white military field tent.
In the distance is a mural-size panoramic picture featuring the preeminent photographer Mathew Brady gazing at the Gettysburg battlefield. Surprisingly, it is an idyllic summer landscape. Brady arrived too late, after the wheat fields had been cleared of the dead.
This first gallery's moment of pause helps to steel your senses for the onslaught to come. Established at the outset, the plaintive mood never lifts throughout the show.
About 1,000 photographers covered all aspects of the Civil War, except the battles -- their equipment was too rudimentary to capture movement.
They shot ruins, soldiers' portraits, generals, politicians, emancipated slaves, burial parties and battlefields strewn with bodies.
We see memorabilia and paraphernalia, including cameras, campaign medals and a wanted poster for John Wilkes Booth. Candid sequential photographs show the hanging of the Lincoln assassination's co-conspirators.
Gunshot Wounds
There are nerve-testing images of bombed-out buildings and contorted, bloated bodies arching toward the sky (horses were not spared), as well as close-up medical photographs of gunshot wounds and pictures of field surgeons performing amputations.
One of the startling revelations is that at least some of these photographs were staged for an eager public. One unknown casualty appears in two different pictures -- as a dead Union infantryman and as a "Rebel Sharpshooter," each with the same prop rifle the photographers carried with them.
Stepping into this enlightening, elegiac show is like entering a chapel. You take a deep breath and go inside -- as much to pay your respects to the 750,000 fallen as to experience works of art.
"Photography and the American Civil War" runs through Sept. 2 at the Metropolitan Museum of Art, 1000 Fifth Ave. Information: +1-212-535-7710; http://www.metmuseum.org.
Sargent
John Singer Sargent was a showoff. A technical virtuoso wielding his brush with bravura flair, he turned Edwardian matrons into shimmering, silken mounds of whipped cream. British gentry were captured in all their pomp and circumstance.
Fed up with doing luxuriant oil portraits, the artist turned to plein-air watercolor in exotic locations like Venice, the Mediterranean and the Middle East.
The Brooklyn Museum has brought together 93 Sargent watercolors. To me, their spontaneous first impressions are preferable to the handful of fussed-over oils in the show.
His variously handled attacks transform foliage into storm surges. Sculpted figures on buildings, in fountains and gardens become dreamy, cursory gestures with classical torsion. Venice's canals are like rippling pearls. Flapping laundry on a clothesline has homespun magic.
Impatience and superficiality are paramount here, but I also sense an artistic freedom unleashed -- it's a defiant self-liberation absent elsewhere in Sargent's oeuvre.
"John Singer Sargent Watercolors" runs through July 28 at the Brooklyn Museum, 200 Eastern Parkway. Information: +1-718-638-5000 or http://www.brooklynmuseum.org.
(Lance Esplund is U.S. art critic for Muse, the arts and leisure section of Bloomberg News. The opinions expressed are his own.)
Muse highlights include Jeremy Gerard on theater and Jeffrey Burke on books.
Before it's here, it's on the Bloomberg Terminal.
LEARN MORE