Want to See 'Man of Steel' Early? Go to Wal-Mart
by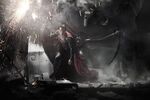 If you want to see the new Superman movie before your friends do, you're going to have to head to your nearest Wal-Mart.
On May 18, 3,700 of the big box stores across the country will offer tickets to a special screening of Man of Steel on June 13, one day before the movie officially opens. Tickets will be good for a specific theater and their price will be "comparable to the cost of a movie in whatever region of the country you live in," says Brent Duwe, director of entertainment merchandising for Wal-Mart U.S. To buy a ticket you have to walk into a Walmart store and physically purchase one, usually from the person working the cash register in the electronics department (which is, unsurprisingly, near the DVD and Blu-Ray selection).
Hollywood has promoted its movies with store partnerships for decades (Happy Meal toys, anyone?) but the Walmart and Warner Brothers deal is unique. "To our knowledge, it's the first time any store has partnered with a studio to launch a major movie like this," says Duwe. Walmart has been dabbling in film promotion for a while. Last summer it made a mobile app for The Avengers, and it once fanned out 20 Spiderman-themed trucks to 1,000 stores—but stunts like that had limited appeal. The best way to entice movie fans to your store is to offer access to the movie itself.
Walmart, which gets increased foot traffic out of the deal, declined to give hard numbers on how many new customers it expects to get or how much added revenue it hopes to bring in. But you know it's paying attention. For over a decade, the store has made use of predictive technology that helps it better understand shoppers' habits. (Fun fact: In 2004, the company's then-chief information officer, Linda Dillman, told the New York Times that, aside from the usual batteries and flashlights, the top-selling item at Walmart before a hurricane was actually beer.) The hope is that when you come to Walmart to get a ticket, you'll buy something else, too.
One caveat for moviegoers and Superman buffs: When you buy a ticket for the film at Walmart, it's a physical ticket. There's no digital version, nothing with a bar code, and you can't scan anything with your iPhone. If you lose it, you have to buy a replacement. Or you can just wait a day and pay to see the movie in theaters with everybody else.
Before it's here, it's on the Bloomberg Terminal.
LEARN MORE