The GOP's New Tactic Against the CFPB
By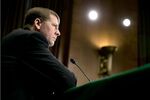 Congressional Republicans have found a new way to attack the Consumer Financial Protection Bureau: They're refusing to let Director Richard Cordray testify to the House Financial Services Committee. In a letter to Cordray, committee chairman Jeb Hensarling said that Cordray's recess appointment was "constitutionally invalid" and therefore he couldn't provide testimony required of the bureau's director. It's a new tactic in a battle they've been pursuing for more than a year to challenge Cordray's nomination and, by extension, the rules the bureau has written under his watch.
President Obama used a recess appointment to put Cordray in the post in January 2012, after the GOP had vowed to prevent his or any appointment to the post. In particular, they object to the bureau's structure, which is headed by a single director rather than a committee, and the bureau's funding, which is paid out of bank fees to the Federal Reserve and isn't subject to Congressional appropriations.
Fast forward a year to late January 2013, when an appeals court shot down other recess appointments Obama had made on the same day as Cordray's. In that case, the court found that Obama's appointment of three people to the National Labor Relations Board wasn't valid because Congress technically wasn't adjourned when Obama made the appointments. (Senate Republicans had been holding so-called pro forma sessions to stay open and thereby hold up Cordray's appointment.) The CFPB holds that Cordray's nomination was legal and wasn't party to the January ruling, which the NLRB is asking the Supreme Court to review. The Congressional Research Service says the NLRB ruling contradicts findings in similar court cases, making it a good candidate for the Supreme Court to consider.
California Representative Maxine Waters, the ranking Democrat on the House Financial Services Committee, is shooting back at Hensarling, saying no court has ruled on Cordray's appointment, and until that happens, he should be treated as the director.
As we've reported before, the financial industry generally finds Cordray to be a fair and thoughtful leader, so all this huff and puff isn't about him per se. But if Cordray's appointment were to be found invalid, the Congressional Research Service says that some, but far from all, of the bureau's efforts over the past year could be vulnerable to being unwound.
Before it's here, it's on the Bloomberg Terminal.
LEARN MORE