pursuits
The Beer Can Revolution, Brought to You by Budweiser
By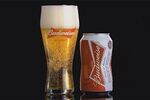 Remember when it was slightly déclassé to drink beer from a can? It wasn't a sign of connoisseurship, that's for sure. You were supposed to buy the pricier ales and lagers in bottles or find a well-curated tap room where they were available on draft. Now, however, we are in the midst of a beer can revolution. Brewers large and small are investing considerable amounts of time, money, and research into new cans. The lowly beer can is finally getting respect.
AB InBev's Anheuser-Busch division is leading this unlikely parade. The mega-brewer is promoting a new "bow tie" shaped Budweiser can. It will be available on May 6. "This can is incomparable, like nothing you've ever seen before," Pat McCauley, Anheuser-Busch's vice president of innovation, promised in a press release.
Anheuser-Busch describes the proprietary new Bud can, which took several years to develop, as a marvel of the engineering, design, and branding process. The company didn't go into much greater detail about all of this, but it suggested that the challenges were painstaking. "Aluminum can be stretched only about 10 percent without fracturing, which requires that the angles of the bow tie be very precise," McCauley says.
The new shape was so important to Anheuser-Busch that it reduced the amount of beer in the can from the traditional 12 ounces to 11.3 ounces. The company noted, however, that this means 8.5 fewer calories for those who purchase the sleek new can. The traditional 12-ounce can will still be available for less-design conscious Bud drinkers.
Such claims of innovation are hardly confined to large brewers. This summer, Boston Beer, America's largest craft brewer, will release Samuel Adams in a can for the first time after what it describes as "two years of sensory and ergonomic research" and a $1 million investment. It will be called the Sam Can.
Roy Desrochers of GEI Consultants, who worked with Boston Beer on the new can, said in a press release: "The flared lip and wider top of the new Sam Can work in concert to deliver the beer in a way that makes the flavor closer to drinking out of a glass. Although subtle, this can delivers a more pronounced, more balanced flavor experience—something that was very important to the brewers. The extended lip of the can also creates a smoother, more comfortable overall drinking experience."
Meanwhile, Pennsylvania's SlyFox Brewing Company will soon release its Hellers Golden Lager with a "360 lid" that comes off like the top on a can of soup. It has been described as America's first topless beer—surely another brewing milestone.
As forward-looking as these new cans may be, some beer lovers still turn up their noses at canned beer. "Some craft-beer drinkers will never buy any beer in a can," says Graham Haverfield, beer director at the Wine Library in Springfield, N.J. "They say it tastes different when you drink it out of a can. Of course, it does. You are supposed to pour it into a glass."
Before it's here, it's on the Bloomberg Terminal.
LEARN MORE