Thai Billionaire's 7-Eleven Reaps 1,700% Gain: Chart of the Day
Lee Miller and Anuchit Nguyen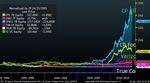 Dhanin Chearavanont, whose Thailand 7-Eleven stores unit bid $6.6 billion this week for cash-and-carry retailer Siam Makro Pcl, is adding to his billionaire status by outperforming global counterparts.
The CHART OF THE DAY compares shares of CP All Pcl, which have surged more than 1,700 percent since their debut in 2003, with those of global 7-Eleven brand owner Seven & I Holdings Co., which rose about 12 percent since their initial trade in Tokyo in 2005. Also tracked are Dhanin's Charoen Pokphand Foods Pcl, Thailand's largest producer of meats and animal feed, and Tyson Foods Inc., the largest U.S. poultry processor. CP Foods has jumped more than 500 percent the past two decades, compared with about 60 percent for Springdale, Arkansas-based Tyson.
CP All's planned takeover of Makro, majority owned by SHV Holdings NV of the Netherlands, would be the second major acquisition this year by Dhanin, who turned 74 last week, the other being Charoen Pokphand Group's $9.4 billion purchase of a stake in China's Ping An Insurance (Group) Co. CP All is the world's third-biggest operator of 7-Eleven stores, with fresh-and processed-food products from other Dhanin-controlled companies among the best-selling items.
"CP All has proven to be very successful among 7-Eleven franchisees in the world because of our vision in foreseeing changes in Thai customers' lifestyles," Dhanin told reporters yesterday. "Rising incomes and urbanization have prompted Thai consumers to shop more at convenience stores."
Thailand's per-capita gross domestic product will increase to an estimated $6,571 this year, from $4,300 five years earlier based on current prices, according to International Monetary Fund data. The nation's GDP expanded 18.9 percent in the three months through December, the quickest pace since the government began compiling figures in 1993.
To be sure, not all CP Group ventures have outpaced overseas counterparts. True Corp., which controls Thailand's largest pay-TV system and offers phone and Internet services, has declined 90 percent since its trading debut in December 1993. Shares of New York-based Verizon Communications Inc., formed through a variety of acquisitions including that of CP's original overseas telecom partner Nynex Corp., have about doubled in two decades, data compiled by Bloomberg show.
Before it's here, it's on the Bloomberg Terminal.
LEARN MORE