pursuits
Meet Vanilla Ice: Tattooed Handyman, Cable TV Star, Industry Bellwether
By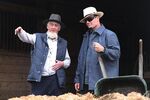 The music industry may have little use for Vanilla Ice. But cable TV? Can't get enough of the guy. More, please.
On April 23, the DIY Network announced that the pay TV channel's new slate of original programming will include an unscripted series entitled Vanilla Ice Goes Amish.
The series, which will launch later this year, will star Robert Van Winkle (aka Vanilla Ice), working in an Amish community in Ohio, building old-timey things like barns without the aid of newfangled things like power tools.
If that sounds like an improbable path to entertainment profits, consider that for the DIY Network, it's not even their first foray into Vanilla Ice-based programming.
The DIY Network, sister channel of HGTV, launched in 1999 and is owned by the Scripps Networks Interactive. Three  years ago, the DIY Network launched The Vanilla Ice Project—an unscripted series starring Van Winkle as a heavily tattooed real estate investor and all-around handyman charged with renovating and flipping a residential property in Florida.
Critics largely approved. "The series … is not just another paean to celebrity failure," noted a review in the New York Times. "No; it is instead a tribute to ingenuity."
Not to mention: a testament to the ongoing strength of the cable TV business. Despite the occasional flash of dread about the future of the bundled TV model, no area of the media business is currently more lucrative, more flush with cash, and more chock full of entertainers who had previously been chewed up and tossed out by less forgiving media environs.
The Vanilla Ice Project is now in its third season. According to data from Nielsen, the three episodes that aired on April 7, April 14, and April 21 averaged 121,000, 222,000, and 130,000 live and same-day viewers, respectively. Those are the kinds of ratings that for decades would have brought immediate cancellation in broadcast TV. In the world of cable in 2013, they amount to a spin-off.
The DIY Network has plenty of cash to spend. In the years since The Vanilla Ice Project made its debut, income at the DIY Network has soared. According to SNL Kagan, in 2010 the network had 53 million subscribers and brought in $45 million in net advertising revenue and $37 million in affiliate revenue. In 2012, those numbers had grown to 57 million subscribers, $57 million in net ad dollars, and $59 million in affiliate revenue.
Business at the channel's parent company, Scripps Networks Interactive (which has an extensive portfolio of pay-TV channels, including HGTV, Food Network, Cooking Channel, and Travel Channel) has been similarly strong. On October 13, 2010, the day before The Vanilla Ice Project's season one premiere, the stock closed at 48.56. On April 23, 2013, the day executives announced Vanilla Ice Goes Amish, the share price closed at 67.43.
Business is good, in other words, not just for Vanilla Ice but also for his benefactors.
According to estimates from PwC, the global television advertising market will increase at a 6.6 percent compound annual rate in the coming year and is expected to hit $254.7 billion by 2016.
On April 23, DIY Network executives announced that in addition to Van Winkle's barn-improvement series, the network has also purchased new shows starring the actor Bronson Pinchot (of the hit 1980s and '90s TV show Perfect Strangers), the singer Daryl Hall (of the hit '70s and '80s band Hall & Oates), and the musician Joseph Ward Simmons, aka Rev Run (of the hit '80s hip hop group Run-D.M.C.).
On Twitter, Vanilla Ice celebrated his new series and explained its inspiration. "The idea came from a random conversation, I was curious about Amish, they are masters of craftsmanship," he wrote. "Real deal!"
Before it's here, it's on the Bloomberg Terminal.
LEARN MORE