Infer Promises More Sales Through Better Math
by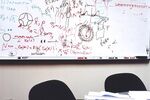 It's hard to take Vik Singh seriously as he talks about his mathematical formula to boost almost any company's sales. For one thing, while he's a grizzled 28, he looks to be about 20 years old. For another, he's an engineer by trade and has never really had to sell much of anything. Yet there he is—fresh-faced, eager, and promising the world.
On Tuesday, Singh and his 10-employee team had a coming-out party for their company, Infer. The startup, based in Palo Alto, Calif., has developed technology that lets it plug into a company's sales-tracking system to rank customer leads based on how likely they are to buy. The ranking system relies on 150 signals, including dozens of data feeds pulled from the Web. "Companies are doing all kinds of stuff to generate a large volume of leads," says Singh. "You might as well make sure that the right kinds of deals are being pushed in front of your sales reps."

Infer has spent two years working on the technology, and its paying customers include Yammer and Box. Silicon Valley startups make up the bulk of its public client list, in fact, although Infer has deals in place with more traditional companies such as health-care and insurance providers. It has raised $10 million from Redpoint Ventures, Andreessen Horowitz, Social+Capital Partnership, and Sutter Hill Ventures, where Singh used to be an entrepreneur in residence.
While he looks college-bound, Singh has a heck of an engineering track record. He fine-tuned search systems for Google before moving to Microsoft, where he developed technology alongside Jim Gray, one of the great computer scientists of the last 50 years. After that, he built out a new Yahoo! search system.
Working at those tech giants imbued Singh with a sense of the advantage that their state-of-the-art machine-learning systems give them over companies without access to that kind of data processing. "The way the typical company manages data is piss-poor in comparison," says Singh. "There is more science at Facebook behind seeing which of your friends are getting drunk across the street from you." This sort of talk is common among a new generation of consumer Web-savvy engineers trying to rewrite all manner of business applications. In the case of Infer, they want to treat a sales deal like a puzzle that can be solved with an algorithm instead of a round of golf and a hearty meal.
Infer's glossy, Web-based analysis software starts with basic information. It might see, for example, that a potential customer has entered his name, address, and company while signing up for a free trial for a product. The Infer system then starts scouring the Web for more information about him and his company. It determines the exact location of the company's headquarters and might then mine U.S. Census Bureau databases for demographic information in the area, company hiring practices from job boards, and sample tweets from corporate and employee accounts. "If a company has lots of trademarks in a certain area, it can show interest in certain types of products," says Singh. "Or if it has more than five job openings, that shows growth."
As all these factors are applied to a company's sales system, trends start to emerge. Infer can see that customers based in California who found the product in question via a search engine are more likely to close a deal than the same kind of customers in Arkansas. The software ranks dozens of these types of attributes, then points salespeople toward the customers most likely to buy and to spend more.
Infer has worked with Box and other customers over the past couple of years to verify its results. It trawls historic sales data and compares outcomes with its predictions. Although Singh says the company comes out near-perfect in these experiments, Infer isn't releasing any proof at the moment. But who has time for proof when you're 28 and out to rewrite the rules of selling stuff?
Before it's here, it's on the Bloomberg Terminal.
LEARN MORE