History Channel's 'The Bible': Coming to a Theater Near You
by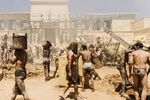 Last month, the History Channel's The Bible, produced by Survivor impresario Mark Burnett, proved to be ratings manna from heaven. Its premiere episode garnered 13.1 million viewers, and after all was said and done, 95 million people had reportedly watched the cable series, making it the year's most-watched. Now Burnett has announced that he is seeking to continue the bounty—and maybe win a few more converts—by re-editing the section of the show about the life of Jesus Christ (chiefly, episodes 5 through 10) into a three-hour film to be released in theaters. "[We have] many, many offers from theaters, globally," Burnett recently told The Hollywood Reporter.
Burnett and his producers have always made it clear that they planned to further monetize their evangelical show: They are publishing a number of spin-off books, as well as study guides, in multiple languages; the DVD is already the fastest-selling-ever DVD for a miniseries. They've also got a CD soundtrack, as well as a CD of music "inspired" by the series. The producer has even noted that he's considering doing a follow-up with more Bible stories. "I do have scripts in my bag that I just received today for what's next," he said in that same THR interview.
Still, this announcement of a new theatrical Jesus movie is an intriguing development that brings the story of The Bible full circle. The series' bombast and violence suggested it was inspired at least in part by the success of an earlier Jesus movie: Mel Gibson's 2004 film, The Passion of the Christ, which grossed $611 million internationally (vs. a $30 million price tag) after a media outreach that bypassed many traditional Hollywood channels and relied heavily on marketing to church groups and religious leaders.
How well The Bible specifically translates to the big screen is another story. The series—all 10 hours—carries a price tag of $22 million, which sounds like a lot, but is modest by high-profile miniseries standards. (Fifteen years ago, HBO's 1998 miniseries, From the Earth to the Moon, cost $68 million.) And even many of the show's admirers were put off by the relatively slipshod, cheap nature of the CGI effects. That may be excusable on TV, but it's likely to pose problems on bigger movie screens.
The track record of films about evangelical subjects is decidedly mixed. 2000's Left Behind: The Movie, based on the popular book series, barely recovered its already low $4 million price tag. (Sequels have gone straight to video, but a bigger-budget remake starring Nicolas Cage is reportedly in the works.) 2005's The Nativity Story, targeted to a more mainstream audience and boasting a bigger budget of $35 million, met a similar, though somewhat more respectable fate, grossing about $46 million internationally.
The Bible, too, is unlikely to replicate the Gibson film's success; it won't have the controversy, for starters, and a good chunk of its potential audience will feel they've seen it already. Luckily for Burnett and company, the movie doesn't need to outdo The Passion. With the miniseries and home video already making money, the film release will serve to extend their brand. That bodes well for all those DVDs, CDs, books, and sequels they've got in the works.
Before it's here, it's on the Bloomberg Terminal.
LEARN MORE