Here Comes Amazon's Kindle TV Set-Top Box
The e-commerce giant is looking to leverage its expanding video work
By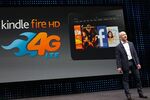 Amazon is making e-readers and tablets and will likely soon introduce a smartphone. As it works to build all types of connected devices, that leaves a natural next step: a television set-top box. The e-commerce giant is planning to introduce a device this fall dedicated to streaming video over the Internet and into its customers' living rooms, according to three people familiar with the project who aren't authorized to discuss it.
They say the box will plug into TVs and give users access to Amazon's expanding video offerings. Those include its à la carte Video on Demand store, which features newer films and TV shows, and its Instant Video service, which is free for subscribers to the Amazon Prime two-day shipping package. The Amazon set-top box will compete with similar products, such as the Roku, Apple TV, and the Boxee Cloud DVR, along with more versatile devices such as the Playstation 3 and the Xbox. An Amazon spokesperson declined to comment.
Many other set-top devices already give their users access to Amazon's video catalog. By building its own system, Amazon can put its content more directly in front of consumers while expanding its lineup of devices and giving developers another reason to create apps for Amazon's digital ecosystem.
The set-top box is being developed by Amazon's Lab126 division in Cupertino, Calif., which has toyed with building TV-connected devices for several years, the people familiar with the effort say. The project is being run by Malachy Moynihan, a former vice president of emerging video products at Cisco Systems who worked on the networking company's various consumer video initiatives. Moynihan also spent nine years at Apple during the 1980s and 1990s. Among the other hardware engineers working at Lab126 with considerable experience making set-top boxes are Andy Goodman, formerly a top engineer at TiVo and Vudu, and Chris Coley, a former hardware architect at ReplayTV, one of Silicon Valley's first DVR companies.
Amazon has been rapidly expanding its efforts in the video arena. Earlier this week it introduced 14 televisions pilots, which it financed, and it's now monitoring customer feedback to decide which ones to produce as full series. The company has also paid to secure exclusive streaming rights to hit shows such as Downton Abbey. A set-top box would give Amazon customers another way to watch all of the company's video content the old-fashioned way—on their TVs. "It would certainly make some sense," says Jason Krikorian, a general partner at venture capital firm DCM and the former co-founder of Sling Media, who doesn't have knowledge of Amazon's plans. "They have a ton of content, an existing billing relationship with millions of users, an existing Android app marketplace that could be leveraged on the box, a reputation for solid hardware products, and a terrific channel through which to promote the product."
One question is whether Amazon will welcome competing video streaming services onto its device, such as Netflix, Hulu, and Google's YouTube. That's likely—Kindle Fire owners can access those apps from those companies—but Amazon's own video and music services will be more prominently integrated into the device. Another looming question is the new product's name. The people familiar with the project weren't sure what it will ultimately be called, but Amazon's five-year history in the hardware business suggests an obvious choice: Kindle TV.