Former UC Riverside Business Dean Sues School System
by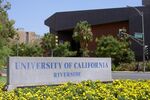 A former University of California business dean is suing the school system, alleging that a prior chancellor mismanaged fees paid by MBA students and improperly diverted financial aid from the MBA program.
David Stewart, former dean of UC Riverside's School of Business Administration, filed suit March 27 against the UC Board of Regents and former UC Riverside Chancellor Timothy White. The complaint alleges that White misallocated nearly $20,000 in professional degree fees paid by MBA students, using the proceeds to pay for other programs at the university rather than boosting MBA financial aid, contrary to UC Regents policy.
The complaint also alleges that the university failed to take effective measures against B-school faculty who violated the school's code of conduct, which may have contributed to high staff turnover.
After voicing several complaints to the university and writing the California State Auditor, Stewart says White forced him to resign in July 2011, ending his four-year tenure as dean. White, who left UC Riverside in 2012 to become chancellor of the California State University school system, declined to comment, according to a Cal State spokesman. A spokeswoman for UC Riverside also wouldn't comment on the suit.
UC Riverside's B-school has struggled to retain faculty, especially deans, according to a story in the Press-Enterprise newspaper. The paper reports that the school had six deans in five years and that from 2003 to 2012, the number of full-time faculty at the B-School dropped by more than a third.
The newspaper also reports that in 2012, the university "fired a faculty member with a record of conflict over his 27 years at the business school" and "disciplined a 21-year veteran who has since left the college."
In his complaint, Stewart alleges that amid budget cuts, part of the MBA degree fees were used to fund the undergraduate business program, which had a sharp rise in enrollment but did not receive additional funding. As a result, he says, the burden "starved the full-time MBA program in Riverside and correspondingly shrunk the UCR Business School in students, faculty, staff, and resources."
UC Riverside's MBA program is not ranked by Bloomberg Businessweek. Its undergrad program made its debut at No. 113 in the 2011 ranking and fell to No. 124 in 2012.
Stewart is currently the president's professor of marketing at Loyola Marymount University in Los Angeles. Prior to UC Riverside, he was on the faculty at the University of Southern California's Marshall School of Business.
Join the discussion on the Bloomberg Businessweek Business School Forum, visit us on Facebook, and follow @BWbschools on Twitter.
Before it's here, it's on the Bloomberg Terminal.
LEARN MORE