A Fix for FAA Flight Delays? At US Airways, They're Hopeful
By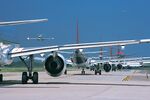 The leaders of what will soon be the nation's largest airline say they're hopeful Congress can speedily craft a solution to air traffic delays caused by the Federal Aviation Administration's decision to furlough nearly 50,000 workers. The FAA's budget cuts, due to the federal budget sequestration, took effect on April 21 and caused more than 2,250 flight delays on Monday and Tuesday, mostly on the East Coast.
"This is a situation that is unfortunate. … It's untenable; it makes no sense," said Robert Isom, the chief operating officer at US Airways, which held its annual gathering for travel industry reporters on April 24 in Phoenix. "They directed the cuts to the area that is most impactful to the public."
The FAA says the effects of the furloughs will migrate throughout the nation's air travel system, and they have been difficult to predict, often changing with workers' shifts. At one point on Monday afternoon, for example, Charlotte's Douglas International was the only major U.S. airport experiencing staffing-related traffic delays, according to the FAA's website. Early on Wednesday, arrivals at Chicago's O'Hare had an average delay of 26 minutes because of staff cuts.
The threat of travel hassles this spring and summer could dent bookings, especially if some people decide to avoid discretionary air trips. The airline industry's trade group, Airlines for America, filed a lawsuit last week seeking to halt the furloughs of air traffic controllers, who are considered "essential personnel" in the federal employment hierarchy.
On Wednesday, some senators suggested allowing the FAA to transfer funds to help keep the controllers on the job, helping to fill a $637 million budget gap. Tom Chapman, US Airways' vice president in charge of government affairs, said any solution for the FAA's budget would need to happen in the next day or two, owing to a congressional recess scheduled for next week.
That's the industry's hope, at least. The flight delays are the product of a political fight between the White House and Republicans in Congress aimed at highlighting the effects of budget sequestration. It likely doesn't help the airlines that they've long had an antagonistic relationship with federal air regulators—particularly with those appointed by the Obama administration. "Whether it's deliberate or not, the impact on us is that you couldn't pick a worse way to manage the cuts," said Isom.
His boss, US Airways Chief Executive Officer Doug Parker, told reporters he was "reluctant to continue my complaints" about the FAA's handling of its budget if the bipartisan effort in Congress would yield a fix. (Parker and I happened to be on the same flight on Tuesday night from New York to Phoenix, which was delayed an hour by the staffing issue.)
Aside from what they consider the furlough fiasco, US Airways' management offered a rosy update on their planning for the merger with the much larger American Airlines later this year. To date, 29 working groups have been assembled to help meld a company that will have about 95,000 employees, 1,550 airplanes, and 6,700 daily flights in 56 countries. The merger is expected to close in the third quarter, but the new airline, based in Dallas-Fort Worth, will require two years or more to fully integrate.
In a forum that was largely bereft of news, thanks to legal restrictions on the companies before their deal closes, Parker, who will become CEO of the airline, did drop one tidbit: The new company's stock ticker won't be AMR, which American's parent corporation used for decades. That name was to signify a holding company with an array of businesses, unprofitable flying by American being just one of them, Parker said.
Before it's here, it's on the Bloomberg Terminal.
LEARN MORE