The TSA Says No to Pocketknives on Airplanes After All
By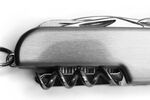 When Transportation Security Administration chief John Pistole moved last month to lift restrictions on bringing small pocketknives, hockey sticks, and baseball bats on airplanes, he was deluged with criticism. Pistole argued that small knives could not be used to bring down an airliner—and pointed out that the TSA already allows small scissors and screwdrivers on board.
But airline executives and flight attendants protested that it would put crews and passengers in danger. And the airport screeners union complained that the new rules, which permit knives shorter than 2.36 inches, would be the subject of endless squabbling from passengers, leading to even longer airport delays.
Unlike other agency heads, who are legally bound to get public input or congressional approval before making big rule changes, Pistole had the authority to make the change and said he wasn't going to back down.
He backed down. According to my colleague Jeff Plungis, Pistole announced in an internal e-mail circulated to TSA staff on Monday that he was delaying the plan, which was set to go into effect on April 25. The TSA chief said he needed "to further consult with the airline industry" before making the change.
Pistole didn't say how long he'd take to make up his mind. For the time being, passengers who don't want to get into hassles with the TSA should leave pocketknives and baseball bats in their checked luggage—or at home.
Before it's here, it's on the Bloomberg Terminal.
LEARN MORE