Network Deals Put Twitter's Future Inside Your TV
Mathew Ingram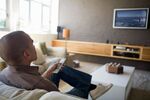 A number of reports last week held that Twitter is looking to do TV-related content deals with broadcast networks such as Viacom and NBC so it can add video clips to its real-time stream. Now we've seen two deals announced over the weekend that show the kind of thing Twitter has in mind: one with BBC America, which was revealed (naturally) via a tweet, and an interesting arrangement with Comedy Central.
These deals reinforce something I tried to make clear in an earlier post about Twitter's plans: namely, if you don't like television, you're probably not going to be very happy with the future of Twitter. The deal with BBC America—a joint venture between the British public broadcaster and the Discovery Channel, which carries such popular shows as Doctor Who and Top Gear in the U.S.—will presumably see Twitter run clips from those shows inside its users' streams in much the same way it did with ESPN during March Madness.
There have been other such one-off deals—as well as arrangements such as one that will bring Weather Channel clips into Twitter's expanded tweets—but the BBC America partnership seems to be the first that involves an entire channel and potentially all of its shows; it could easily be the prototype for further deals.
Will users react positively or negatively to so much real-time video showing up in their Twitter streams?
Meanwhile, Twitter's project with Comedy Central illustrates how much the company wants to bring video inside the stream: The network is launching what it calls a five-day "comedy festival" with all the content appearing on Twitter. Most of it will be either created or distributed via Twitter's recent video acquisition, Vine, which is designed for video clips no longer than six seconds.
According to the New York Times' report, a number of comedians, including such legends as Mel Brooks and Carl Reiner, will post video snippets of comedy routines, as well as jokes, using the hashtag #ComedyFest. On Tuesday, comedian Steve Agee will reportedly host a "Vine Dining" party as part of the festival, in which he and others will tell stories in six-second video clips that will be hosted and distributed by the Twitter network.
As my colleague Eliza Kern noted last week in her post about the rumored deals with Viacom and NBC, these moves are just part of Twitter's ongoing plans to not only host TV and video content on the network, but to monetize it (or help its creators monetize it) as well. In addition to Vine, one of the recent acquisitions that could help Twitter do that is Bluefin Labs, which specializes in tracking the real-time data as to who is watching what show.
That kind of information—along with data from Twitter's partnership with Nielsen, announced last year—would in turn help Twitter appeal to advertisers looking for as much targeting information as they can get. That appeal may already be paying off: According to a report from the Financial Times on Monday, Twitter has signed a major multiyear deal worth "hundreds of millions of dollars" with Starcom MediaVest Group, a large ad-buying firm that represents clients such as Walmart and Coca-Cola.
Such moves—and the launch of Twitter Music last week—reinforce just how much the company has evolved away from its original nature as a short-messaging service that gave you 140 characters or fewer and could be consumed quickly. Twitter is now becoming a lot more like a broadcast network—or at least a willing handmaiden for broadcast networks, as Chief Executive Officer Dick Costolo predicted in a speech last year. Is this what users really want from Twitter?
Also from GigaOM:

Bloomberg Is Breaking the Twitter Barrier (subscription required)
As Internet Gets Faster, Hong Kong & South Korea Lead the Broadband Speed Derby
New York Times Lifts Paywall for Video, Plans 'Franchises'
Netflix CEO: Password Sharing Is Not a Big Deal
Data Centers Are Getting More Sophisticated, So Why Aren't Our Metrics Keeping Up?
Before it's here, it's on the Bloomberg Terminal.
LEARN MORE