Head of the Class: Highest-Paid CEOs With MBAs
by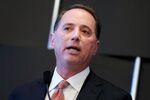 To aspiring chief executive officers currently making your way through B-School: These are the kinds of pay packages you may someday be able to look forward to.
Bloomberg Businessweek has compiled the 2012 compensation for some of the most handsomely paid chief executives that also have MBAs. Topping the list is investment bank Jefferies Group CEO Richard Handler, who was paid $19 million for the 2012 fiscal year and received $39 million in restricted stock awards for the next three years, bringing his total package to $58 million. The highest-paid woman on the list is Bloomin' Brands CEO Elizabeth Smith, who took home total compensation worth $24.5 million, according to Securities and Exchange Commission filings. Below we list others, including the schools where they got their MBAs and the value of their packages, which may include stock options and other awards:
Richard B Handler, (Stanford Graduate School of Business), Jefferies: $58 million (includes future pay)
John Watson (University of Chicago Booth School of Business), Chevron: $32.2 Million
Muhtar Kent (London City University Business School), Coca-Cola: $30.5 million
John Donahoe (Stanford Graduate School of Business), EBay: $29.7 million
James McNerney (Harvard Business School), Boeing: $27.5 million
Jeff Immelt (Harvard Business School), General Electric: $25.8 million
Elizabeth Smith (Stanford Graduate School of Business), Bloomin' Brands: $24.5 million
John Stumpf (University of Minnesota Carlson School of Management), Wells Fargo: $22.9 million
Richard Fairbank (Stanford Graduate School of Business), Capital One: $22.6 million
Indra Nooyi (IIM Calcutta), Pepsi: $14.2 million
Join the discussion on the Bloomberg Businessweek Business School Forum, visit us on Facebook, and follow @BWbschools on Twitter.
Before it's here, it's on the Bloomberg Terminal.
LEARN MORE