ENRC Chairman Exits as Founders Mull Bid for Mining Company
Firat Kayakiran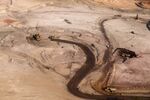 Eurasian Natural Resources Corp. Chairman Mehmet Dalman resigned as the mining company's three founding shareholders and the Kazakh government consider making an offer for the producer of iron ore, copper and power.
Dalman has been replaced by director Gerhard Ammann, former chief executive officer of Deloitte & Touche LLP's Swiss practice, the London-based company said in a statement yesterday. Dieter Ameling and Paul Judge won't seek re-election to the board at ENRC's June 5 general meeting, it said.
ENRC appointed Dalman chairman in February 2012 to oversee a reorganization and improve corporate governance after corruption allegations against the company, which has operations in Kazakhstan, China, Russia, Brazil and Africa. The U.K.'s Serious Fraud Office is investigating payments made by an ENRC unit in Kazakhstan and anti-corruption groups have questioned its dealings in the Democratic Republic of the Congo.
"Yesterday's departures perhaps lean the company further from a scenario in which it maintains its London listing," Liberum Capital Ltd. analysts said in a note today. "Dalman was brought in to address governance issues and was the public-facing voice of the restructuring story at ENRC and therefore his departure will be a concern to the market."
ENRC has dropped 49 percent in London trading in the past year amid lower commodity prices and the questions over corporate governance. The stock declined 0.6 percent to 280.70 pence at the close, valuing the company at about $5.5 billion.
Considering Offer
Alexander Machkevitch said on April 19 he's considering joining two fellow founders of ENRC and the Kazakh government in making an offer for the company. The group has until May 17 to make an offer.
"The recent announcements portray a company that is in turmoil," Tony Robson, an analyst at BMO Capital Markets, said in a note to clients. "There has been no actual offer by the consortium and, in its absence, the shares may suffer from downside."
Machkevitch and fellow controlling shareholders Patokh Chodiev and Alijan Ibragimov own almost 44 percent of the company with the Kazakh government holding 12 percent. Kazakhmys Plc, Kazakhstan's biggest copper producer, owns about 26 percent of ENRC.
The consortium would need $4.5 billion to buy out the 18 percent free float and the Kazakhmys' stake at 5 pounds a share, and $2.6 billion at 3 pounds, Liberum said. Kazakhmys gained 7.2 percent to 359 pence.
No Action
ENRC has set up an independent committee to evaluate any proposal against alternatives available to the company, it said yesterday, advising shareholders to take no action.
"The board confirms that it has not received any proposal which could result in an offer or possible offer," ENRC said. "At this point there is no certainty that any offer will be forthcoming."
Ammann, who has been on ENRC's board for more than five years, takes on the executive powers handed to Dalman in November, including finance, risk, legal and compliance. Ammann has been named acting chairman, with shareholders due to vote on his appointment at the June 5 meeting, ENRC said.
"I have achieved all that I can as chairman of ENRC and it is therefore appropriate to hand over the reins to new leadership," Dalman said in yesterday's statement. "I am confident that the interests of the minority shareholders will be well served by strong non-executive directors."
Other Departures
The latest round of changes to the board come after a series of executive departures during the past two weeks. Chief Commercial Officer Jim Cochrane resigned from his position and his board seat on April 11. The company's secretary and head of human resources have also resigned, a person familiar with the matter said this week.
ENRC's assets include iron ore, ferroalloy and power production operations in Kazakhstan, copper and cobalt businesses in Africa and a Brazilian iron ore project.
In 2010, ENRC took control of copper and cobalt mines that Israeli billionaire Dan Gertler obtained from the Democratic Republic of Congo government, which had seized them from Vancouver-based First Quantum Ltd.
Anti-corruption groups including Global Witness have criticized the transaction, saying Gertler got the assets at low prices because of his close relationship with the nation's president. Gertler denies he purchased companies at below-market rates. First Quantum also sued ENRC, which settled for $1.25 billion.
ENRC traces its roots to the founders' participation in the 1990s privatizations of Kazakh state assets, which were gradually combined into a single group of companies and listed in London in 2007.
Before it's here, it's on the Bloomberg Terminal.
LEARN MORE