Crillon Auction Raises $7.8 Million, Six Times Estimate
Gregory Viscusi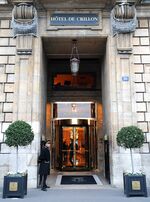 An auction of furniture and fixtures from Paris's historic Crillon hotel raised 6 million euros ($7.8 million), six times the starting prices.
All 4,000 lots were sold, auctioneers Artcurial said in a statement. Half the sales took place over the Internet.
The 100-year-old hotel, which housed General Eisenhower after the 1944 Liberation of Paris and has hosted Madonna and the Shah of Iran, auctioned off beds, curtains, wine and china to help fund a two-year renovation.
The highest price was 324,800 euros for 5-meter long art-deco bar designed by French sculptor Cesar, with bidding starting at 10,000 euros. The hotel restaurant's hanging sign, for which bidding started at 200 euros, sold for 26,000 euros.
A dessert cart went for 20,800 euros and the concierge's mail boxes for 11,000 euros.
The auction took 40 hours over five days, with 2,000 people in the room and 2,700 bidding on the web. The lots, mostly Louis XV and Napoleon III style furniture, was on display for five days in the hotel, attracting 25,000 viewers.
Built in 1775 on the Place de la Concorde and converted to a hotel in 1909, the Crillon palace housed the British and American military commands in World War I. It was occupied by the Germans in World War II before it was taken over by the Allies. The Covenant of the League of Nations was signed within its walls in 1919.
Crillon has been owned by the Saudi Royal Family since 2010, after earlier being owned by Starwood Capital and the Taittinger group of Champagne fame.
Before it's here, it's on the Bloomberg Terminal.
LEARN MORE